Former Chief Public Health Officer Joins UWinnipeg
Thu. May. 9, 2013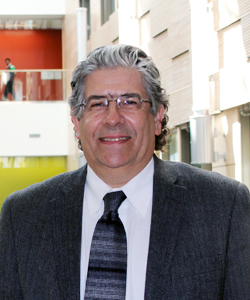 WINNIPEG, MB –Effective today, former Chief Public Health Officer for Manitoba, Dr. Joel Kettner joins The University of Winnipeg as Visiting Professor and Senior Fellow in Indigenous Development Practice in UWinnipeg Master's in Development Practice Program.
 
"Dr. Kettner's breadth of experience in public health, health care and policymaking and his understanding of how these relate to social and economic development, is an excellent match for our MDP.  His knowledge of and work with Canada's Aboriginal and other disadvantaged populations are an important asset for the program", expressed UWinnipeg President and Vice-Chancellor Dr. Lloyd Axworthy. "This is another tangible example of why it's an exciting time to be at UWinnipeg."
 
Supported by a grant from the MacArthur Foundation, Dr. Kettner will contribute his expertise in health with MDP faculty, staff and students on theoretical and practical issues as these pertain to health and development. The two-year appointment includes Kettner teaching graduate and undergraduate courses, and delivering four public lectures related to Indigenous development and health.  These lectures will be recorded and archived as part of the CN Indigenous Resource Centre and Global Classroom component of the MDP program, which includes the sharing resources and research among the 23 other universities in the MDP Global Network.
 
"I look forward to being part of UWinnipeg's academic community, which is known for fostering and promoting fairness and accessibility," said Kettner. "Sharing my experience and thinking in matters of public health and other medical practice with students and faculty in a global classroom is an exciting prospect.  I am very enthusiastic about MDP's broad approach to development, based on its core commitment to health equity and social justice."
 
About the MDP
The MDP combines training in the health sciences, natural sciences, social sciences and management to give practitioners the tools to address the world's most challenging problems while creating leaders in Indigenous development and is part of a network of 23 other universities sharing resources and research. Find out more about this exciting new degree at the MDP website or email mdp@uwinnipeg.ca.
 
Dr. Joel Kettner's Biography
For the past 22 years, Kettner has worked in Manitoba as a medical officer of health. In the '90's, he served as a regional medical officer of health in rural and northern Manitoba and in Winnipeg. For the past 12 years he was Manitoba's senior public health physician, first as chief medical officer of health until 2007, and then as Manitoba's first chief provincial public health officer (CPPHO), a new position mandated by the new Public Health Act of Manitoba. He served in that capacity until January, 2012.
 
Kettner has been active in national and international public health matters. Some of his significant engagements include:
being the past chair of the Federal-Provincial-Territorial Deputy Ministers of Health Advisory Committee on Population Health;
engaging in a five-year pilot project with Island Lake First Nations communities to improve public health;
being a provincial participant in Canada's delegation to update the International Health Regulations of the World Health Assembly of the United Nations (following the SARS outbreak);
providing medical leadership in Manitoba during the H1N1 pandemic;
and issuing the first mandated CPPHO Report on the Health Status of Manitobans entitled "Priorities for Prevention – Everyone, Every Place, Every Day."  This report emphasized and prioritized the roles and responsibilities of all individuals and all sectors of society to prevent disease and injury and to reduce inequalities of health between and among specific populations in Manitoba, especially our Indigenous peoples. The Report includes twenty-one recommendations, all of which were accepted by the Minister of Health and the Government of Manitoba when the Report was made public in June, 2011.
Kettner was raised in the north end of Winnipeg and obtained his medical degree at the University of Manitoba in 1976. After working in emergency medicine, he undertook his first residency program in Winnipeg, obtaining his general surgery specialty certificate from the Royal College of Surgeons of Canada. Kettner studied abroad, to prepare for an academic career, obtaining a Masters of Science in Epidemiology at the University of London School of Hygiene and Tropical Medicine. Inspired by the study of disease prevention and public health in the United Kingdom, he returned to Winnipeg, and obtained his second Royal College specialty certificate, in Community Medicine (now Public Health and Preventive Medicine).  
In addition to his role in the MDP at the University of Winnipeg, Kettner continues as assistant professor in the Departments of Community Health Sciences and Surgery at the University of Manitoba.  Kettner plans to continue to practice clinical medicine on a part time basis.