MDP Welcomes Inaugural Cohort Of Students
Fri. Aug. 26, 2011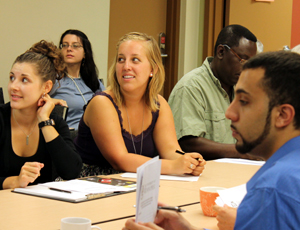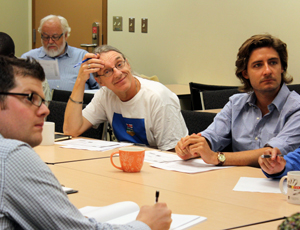 MDP student meet and greet August 25, 2011
WINNIPEG, MB - The University of Winnipeg welcomes the inaugural cohort of 18 students in the Master's in Development Practice (MDP) program. The students who are remarkably diverse in age, experience, and nationality, with one third self-identified as Indigenous, begin their one week orientation at the Fisher River Cree Nation (FRCN), TODAY, Friday, August 26, 2011. The week concludes with a Feast at Thunderbird House, (715 Main St) in Winnipeg on Friday, September 2, 2011 beginning at 6:00 pm.

"We are fortunate that Fisher River Cree Nation has agreed to host our MDP Orientation, said Dr. Julie Pelletier, Director of the MDP program. "The students will be instructed by UWinnipeg faculty and FRCN community experts in a number of areas, including health, governance, and land issues. They then return to Winnipeg to learn more about the urban indigenous experience."

The MDP is an interdisciplinary two year degree program focusing on holistic applied approaches that will equip students with practical skills to make a difference in communities across Canada and abroad, particularly in Indigenous communities.

MDP students will learn from some of Canada's most respected scholars and practitioners in indigenous development including world-renowned ethnographer and filmmaker Dr. Wade Davis, and University of Winnipeg President and Vice-Chancellor and former Canadian Foreign Affairs Minister, Dr. Lloyd Axworthy.

Transcending borders, students will interact with fellow students through the global classroom and the CISCO Telepresence system in the new Richardson College for the Environment and Science Complex linking UWinnipeg's MDP program to the other 22 top universities worldwide including Columbia University's Earth Institute, (New York, USA), Sciences PO (Paris, France), Universidade Federal Rural do Rio de Janeiro (Rio, Brazil), and James Cook University (Australia).

The MDP was established by a generous grant from the MacArthur Foundation, is one of 22 universities worldwide to offer this internationally recognized designation and is distinctive in this network as the only MDP program focusing on indigenous development. In addition to MacArthur, CN Rail has made a significant and generous gift of $550,000 as a founding partner for the program. The CN gift funds the CN MDP Scholarships, a new Employment Placement Counselor position, and the CN Indigenous Resource Centre housed in the Richardson College for the Environment and Science Complex.

If you or someone you know is interested in becoming a student in the Master's in Development Practice program, please contact us directly via email at mdp@uwinnipeg.ca or visit the website.