Kin Grads at Work
Where will a Kin degree take you...?
Have you considered your future career path? Ever wondered where a degree in Kinesiology can take you? We've KIN-nected with a few graduates of our Kin program streams, some recent, others from the last ten years or so, to see where a KIN degree has taken them....


From
anatomy class, to helping elementary students add movement to their day...
Joel Schollenerg - B.P.H.E. / Bachelor of Education, University of Winnipeg, 2017
Currently: Full-time Grade 6 teacher in Beausejour; pursuing degree in Special Education
After graduating from UWinnipeg's integrated Kin and Education program Joel Schollenberg applied for substitute teaching positions and became a 'sub' from the day his classes ended to the end of June.
He soon had confirmation that he had chosen the right career through a six-day term position as an elementary school P.E. (Physical Education) teacher in Lac du Bonnet. While normally living in the city, Joel stayed at a friend's cabin near the school so he could also enjoy some outdoor activities. While the recreation was good, it was the teaching that mattered, "It was very rewarding. With the young kids we learned the fundamentals of jump rope and with the older kids, we played a new sport called Sabakiball. Every day after teaching I jumped in a canoe and went fishing. This is when I knew I had picked the perfect career. Little did I know that this same 6-day term would end up helping me land my current position. My advice to new graduates is to take every experience you can because it opens doors to opportunities you wouldn't have otherwise had, or thought of having."
While not a P.E. position, Joel applied for and was accepted as a full-time Grade 6 teacher in a Beausejour school. He noted, "I was a little bit disappointed that I wasn't the P.E. teacher I trained to become, however, this experience ended up being more than I could have ever wanted. One thing that Kin taught me is that 'movement is healing.' I've implemented movement into almost every classroom lesson across the curriculum. That's everything from astronaut training camp simulations in science, to multiplication relay races." With these creative ways of adding movement Joel is definitely making learning more fun – and helping children add more movement and exercise to their daily routine. Joel has also been able to plan and organize some hiking trips and coach multiple sports from Triple Ball to High School Track and Field. The Kin courses he took in caring for sports injuries and human anatomy he has found particularly beneficial when coaching. After spending the last seven summers working with children with special needs, Mr. Schollenberg (that is his 'teacher' photo in the school year book) has also began a post-baccalaureate degree in Special Education. He is both busy and fulfilled: "I wouldn't trade this experience for anything."
---
...from the art and science of movement, to the rewards of injury rehab
Renée Plante - BSc, Exercise Science, University of Winnipeg, 2016
Currently: Completing Masters of Science in Physical Therapy, Class of 2019
Upon completion of her Bachelor of Science in Exercise Science at UWinnipeg, Renée relocated to Edmonton for the Master of Science in Physical Therapy Program at the University of Alberta. She is currently in her second year, having completed two clinical placements in acute care, general medicine and musculoskeletal/orthopedic private practice. She explains how her Kin studies prepared her for Physical Therapy and it's approach to various pathologies/conditions: "The courses taught in the KIN department laid the foundation for many aspects of rehabilitation principles, which are then further explored in achieving patient-centered outcomes. The opportunity to be mentored by working clinicians in various clinical settings has been extremely beneficial, but the most rewarding experience comes from working alongside patients towards attaining their individual goals."
Renée was originally drawn towards post-secondary education from her first passion, classical ballet. As a professionally trained dancer from the Royal Winnipeg Ballet School, she developed a deep appreciation for human movement and the effects of injury on the body. As she approaches her final year of Physical Therapy studies, she hopes to one day return to her artistic roots to ensure young dancers can work through their injuries and continue to follow their dreams.

Here is Renée's advice to students entering the Kin program:
Don't just memorize, make sure you understand!
Be curious and ask lots of questions.
Get to know your professors.
Take part in a research experience.
Exercise and take care of yourself.
Never give up!
---
...To the Olympics
Dr. Tom Hammond - B.A. Kinesiology, 2007
D.Psych (Clinical), Deakin University, Australia, 2014
M.Sc. (sport psychology) University of Manitoba, 2010
Currently: Clinical and Performance Psychologist, 2018 Australian Winter Olympic Team
Tom Hammond is currently in South Korea for the Winter Olympics as part of the Australian Team. He relocated to Australia when completing his Doctorate in Psychology and hasn't looked back. Tom is the lead clinical and performance psychologist working with Aussie athletes in their quest for the podium. He was also a classified for the 2012 London Paralympics alongside our current department Chair, Dr. Melanie Gregg. This is one Olympics, where I suspect that we in Kin will be cheering for Austrailia as well as Canada on the slopes.

Here are some highlights of Tom's impressive career so far:
Lead clinical and performance psychologist, Olympic Winter Institute of Australia and 2018 Pyeonchang Olympic Games
Team Leader, Senior Psychologist - primary-care service at 'headspace' Mt. Druitt, Sydney, Australia, 2015.
Paralympic Classifier at 2012 London Paralympics (alongside Kin Department Chair, Dr. Melanie Gregg), and 2015 Pan-Am Games, Toronto.
Part of the most successful World Cup season in the history of Australian winter sport 2016-2017!
...To a teaching career
Marshall Jones - B.A., Kin, 2007 and Bachelor of Education (Brandon University, 2009)

Currently: Physical Education and Health at Vincent Massey Collegiate in Winnipeg since 2010.
Career highlights since graduation:
Coached Varsity Boys Volleyball Team since 2010, reaching the Final 4 in 2015
Named Volleyball Manitoba AAAA Boys 'Coach of the Year' in 2015
Travelling with students to Europe in April 2017 for the 100th Vimy Ridge Commemoration
Taking 30 students on an outdoor ed class in Costa Rica, February 2018.
Mr. Jones advises current kinesiology students to, "Take full advantage of the University experience. Get involved in different events. Volunteer at things. It's a great way to meet people and have new experiences. If you're entering the field of Education, you'll need experience working with young people so coach, volunteer, that kind of thing. Make connections in the community. These contacts will be very important when it comes time to find a job. And remember to take care of yourself! You need to eat, sleep and exercise."
---
...To Improve Others' Health & Well-being
Dr. Carmelie Capiendo – B.Sc., Exercise Science, 2012, Canadian Memorial Chiropractic College (CMCC), 2017*

Currently: Chiropractor and Acupuncture Practioner

After graduating from UWinnipeg Carmelie was unsure of what she wanted to do. She worked at Grant Park High School as a Career Advisor for a year. It was then, through a personal medical experience, that she discovered chiropractic and knew what she wanted to do.  She applied to the CMCC where her Exercise Science Degree gave her a firm foundation, as she put it, "My first module of chiropractic school was a review of my entire undergraduate program in Kin." 

Capiendo graduated from CMCC in 2017 and now a Chiropractor and Acupuncture Provider at two Winnipeg clinics.  She explains, "It's a great way to see how two very successful and very different clinics operate. One day I hope to open up my own business."
Dr. Capiendo is also certified in SMART tools instrument assisted soft tissue therapy, Acupuncture and Mental Health First Aid. Typical treatments she'd perform include: spinal manipulation therapy, soft tissue therapy, rehabilitation exercises, modalities such as: laser, therapeutic ultrasound, traction etc., and nutritional advice.
Her treatment philosophy is to motivate and empower patients to make informed health care decisions by educating and providing information and resources: "My goal is to empower patients to become advocates for their own health and well-being."

Kinesiology was the foundation for her education as a Chiropractor: learning how the body moves and functions which is the basis of Chiropractic care. It was through studying KIN that she became more aware of her own personal health and wellness goals, "Prevention became more important than treatment of medical issues."
Carmelie's advice to students entering kin: "If there is something you're interested in go and observe people in the profession to gain a better understanding of what the job entails. If you don't know what you want to do, go and observe people in the professions! When I was looking into the chiropractic profession I googled all the chiropractic clinics in Winnipeg and called each office asking if they would allow me to shadow them for a few hours** - job shadowing sealed the deal for my career choice."  
She also suggest that students speak to their professors and get involved, "Being a part of the Kinesiology Student Association (now known as KATSA) was such an amazing experience for me."
Her final thoughts, "If you're planning on going into chiropractic take a few business courses*** you'll be happy you did!"
* UWinnipeg has a Credit Transfer Agreement with CMCC

** The Department of Kinesiology & Applied Health provides the opportunity for Univesity or interested high school students to 'shadow' a Kin student for a day - including attending classes, and the clinic in the case of the Athletic Therapy program stream.
*** UWinnipeg offers a 4-year B.Sc. in Kinesiology with a Business Stream

---
...To work with Professional Athletes
Florent Thezard, CAT(C) - B.Sc., Athletic Therapy, 2013

Currently: Athletic Therapist, Lab Instructor, Graduate Student

Florent Thezard (aka Flo) remains a familiar face around the Duckworth Centre. After 4 years as a student, he is now really enjoying his time on the other side of the white-board, as it were, as a lab instructor (and his learning continues through the questions the students' pose).  Flo is a busy man: in addition to being a certified Athletic Therapist and a part-time Kin lab instructor, he is also working on his Master's in Biomechanics. While his graduate work is at the University of Manitoba, with Dr. Rob Pryce as his thesis advisor and mentor, Flo still feels like UWinnipeg is  his home-base. Flo also noted how well his undergrad education in the AT program stream prepared him to write the CATA exam which he completed soon after graduating.
A few career Highlights Flo mentioned was the opportunity to work with professional athletes (including athletes from the National Hockey League, American Hockey League, Canadian Football League, National Football League) - pretty exciting for anyone involved with athletes and sports. Fully bilingual in French, Monsier Thezard is also Head Athletic Therapist at the Université de Saint-Boniface working specifically with all the ball-sport athletes: volleyball, soccer and futsal athletes.
Advice to students
Don't be shy – talk to lots of people, ask questions.
Expand your comfort zone, try new things to find out what you really enjoy.
---
Megan Pomarensky, CAT(C) - 4-year BSc. in Athletic Therapy, 2012

Currently: Athletic Therapist

Megan Pomarensky is a Certified Athletic Therapist who has achieved her dream job because she is able to: "Help people achieve their health and fitness goals." 
This past summer Megan was the Medical Venue Coordinator for AT  for the 2017 Canada Summer Games in Winnipeg - considered one of the most successful Canada Summer Games as well as the notable 50th incarnation.
Career Highlights:
Spent the last 4 years in the full-time clinical job she envisioned when starting her degree
Worked her way up to Head therapist for a Canadian Junior Football League season
Official service provider for the Canadian Sport Centre of Manitoba.
Megan's advice for current Kin student?  She says, "Take every opportunity that you can, and if it's out of your comfort zone, even better! Go out and meet and learn from other AT students, certified ATs, and practitioners of other disciplines; plus you never know where that meeting can take you." 
---
...To Ireland and Graduate School
Harley Thwaites - 4-year BSc. in Athletic Therapy, 2017

Currently: Completing Master's in Biomechanics with plan for PhD.

Harley Thwaites was one of the first UWinnipeg Athletic Therapy students to take part in the Irish-Exchange Program with the Athlone Institute of Technology. Three Athletic Therapy students from the Athlone Institute of Technology studied at UWinnipeg for three months, while two of our AT students went to Athlone (near Dublin) for 3 months. Everyone who took part in this international exchange has raved about the benefits of their experience studying and traveling abroad.  Hartley is currently completing his Master's degree at the University of Manitoba in Biomechanics, he was also able to present a research paper on his studies in Ireland. He also took a moment to share this reflection on his time at UWinnipeg:

"I most enjoyed the small class sizes where we had more hands-on time with other students and instructors. I learn best by doing - especially when I put myself in positions out of my comfort zone. There's no harm in trying, and I learned more from experienced therapists as well as from my own mistakes."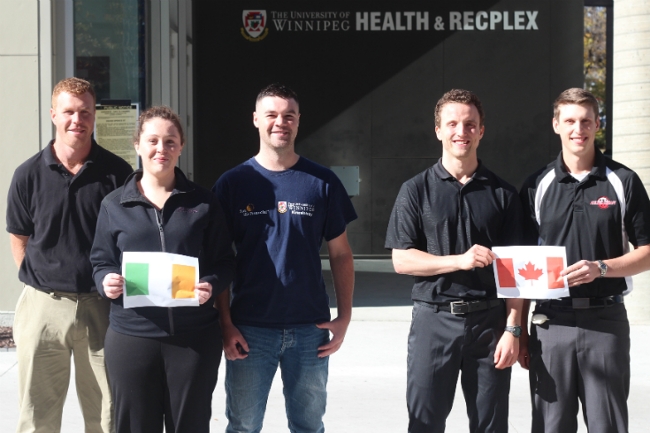 Harley Thwaites (2nd from right) & other students from Exchange.
---
The Gupta Faculty of Kinesiology & Applied Health is built on a long tradition of excellence in academics and athletics. We would like to hear from you. Tell us about your work, your play, your city - where has a University of Winnipeg Kin degree taken you? Please email us at kinesiology@uwinnipeg.ca.