Rhetoric, Writing, and Communications

What is Rhetoric, Writing, and Communications?
Studying rhetoric unlocks the power of communication — whether through text, speech, or non-verbal language. It's about understanding the meaning behind people's interactions and how to leverage different attitudes and behaviors to reach a specific audience. UWinnipeg's program provides a theoretical background to rhetoric, and helps explain how different pieces can make us laugh, cry, or take action. You'll examine popular advertisements, political speeches, newspaper articles, and essays as you develop skills in drafting, revising, and editing.
---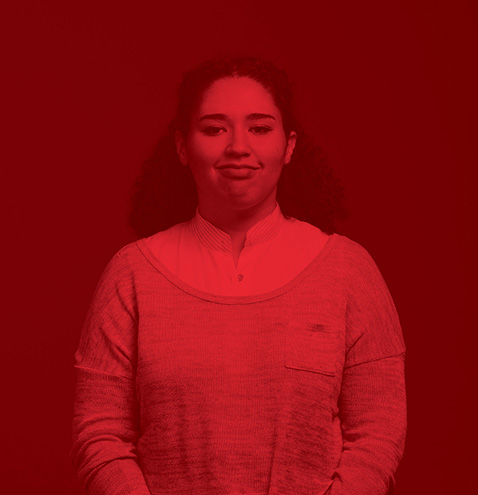 Student Profile - Milan Orridge
Milan Orridge loves the versatility of her major.

Originally from Brandon, Orridge wanted to stay in Manitoba for her post-secondary education. After doing some research, she decided her passion for arts and language, combined with a highly regarded rhetoric, writing, and communications department, made UWinnipeg the perfect fit.

"You have the opportunity to learn about oral, written, and visual communications," she noted, "whereas many majors only focus on one of those things."

That versatility also extends into possible career paths, as a rhetoric and communications degree offers a wide range of options.

"Every field, institution, or organization needs good communicators," she said, adding law, public relations, advertising, and journalism are just a few of the many fields she can enter after graduating.

What Orridge finds interesting about her major are the misconceptions people have about its place in history.

"People think rhetoricians make a career out of trying to deceive people to get what they want, when we're just trying to use the available means around us to communicate a certain point," she said. "This often means exposing truths and logic more than it means hiding it."

Once she finishes her Bachelor of Arts degree, Orridge has high expectations for her future. She plans to potentially pursue a master's degree before settling into a field where she can make a real difference in the community.

"Law is something I've thought about doing, but I'd also like to do public relations for advocacy groups or art organizations in the city."
---
Make an impact
The message is everything, and knowing how to communicate yours can be the difference in changing public opinion, defending a legal case, or selling a product. People with a background in rhetoric and communications understand how one word or image can change the message — for better or worse. A marketer could use these skills to write the perfect advertisement or organize a buzz-worthy event, while a government official may need to know the best way to alert the public during an emergency.
Career opportunities
Public affairs
Journalism
Government affairs
Publicity

Event planning
Advertising
Technical, business, or science writing
Speechwriting
UWinnipeg faculty, students, and alumni are leaving their mark in the field of rhetoric and communications. Read their stories:
Rhetoric professor pens critical analysis of "Blade Runner"
Spotlight on Rhetoric, Writing, and Communications
UWinnipeg Students 'Rooted in Rhetoric
---
View Rhetoric and Communications Factsheet [PDF]  |  See Academic Calendar Information [PDF] | Visit Department Website
Looking for more information? Please fill out the form below.