English

---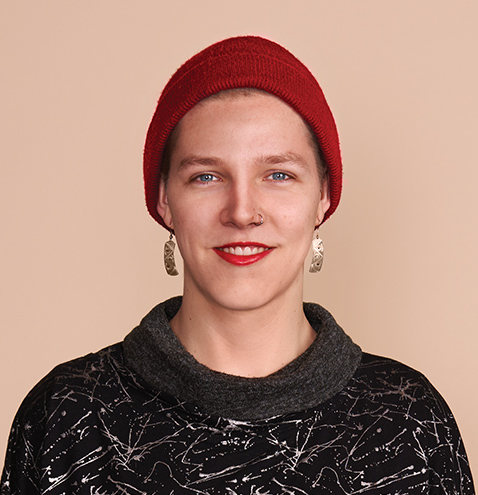 "I'll use language to connect with and advocate for others." — Jase Falk
For Jase Falk, studying English has opened many doors, providing a new way of looking at the world, and the opportunity to work on a diverse range of projects aimed at empowering others and breaking down misconceptions.
"Not all English majors want to be high-school teachers," they said.
A highlight of their studies has been the opportunity to take on a research assistant role for Museum Queeries, an interdisciplinary research project based at UWinnipeg.
"I never knew museums were an interest of mine but it turned out to be something really exciting, and opened up all sorts of doors that I didn't think an English degree would do for me," they said.
The Museum Queries project inspired Jase to apply for funding through the Oral History Centre to pursue a transgender oral history project. After graduation, they plan to further develop this project in a Master's in Gender Studies, which they will begin at Queens University in fall 2020.
From experimental poetry, to the study of traditional and contemporary art and media, Jase says that studying English has created space to hear from a range of voices
"A big thing for me was coming across other transgender writers who were exploring the same kind of questions I was wrestling with in my own personal life," said Jase. "This gave me so much context to understand myself and to go forth and create my own work from that."
Studying English has made Jase a better communicator with a clearer understanding of humanity, and how language can be used to advocate for yourself and others.   
"I think that English is really a process of listening," said Jase. "When I read, it is important for me to listen to what a text has to say to me, and to take this seriously. I think the skill of learning to listen to others, and to think hard about where they are coming from is a valuable one that can make a difference."
Advice to future students: "There's really so much you can do with an interest in the English language, whether its journalism, or teaching in various capacities, or writing, or museum curating or whatever you want to do with it. If you're excited about a topic, talk to your profs about it, they're going to be excited about it too. And you don't know where that's going to lead you. For me, this has allowed me to do a lot of cool interdisciplinary work."
---
What is English?
Enrich your understanding and enjoyment of all forms of literature, language, complex texts, and the process of writing by studying English. Focus on writers from William Shakespeare to Carol Shields, learn about women and literature, get imaginative in creative writing, and consider important questions regarding culture, gender, ethnicity, race, social class, and historical context in the texts you read. When you graduate, you'll be equipped with the reading, writing, and analytical skills needed to succeed in almost any field.
Make an impact
Critical readers and writers are vital to almost every profession. Do you have a passion for writing? Work as an investigative journalist to uncover and tell important stories. Shape the next generation of leaders by becoming a high school teacher. Or help make a difference for a non-for-profit organization by managing their public relations team. The one thing all of these careers have in common is the need for strong English skills.
Career opportunities
Journalist
Marketing Assistant
Public Relations Specialist

Copy Editor
Publisher
Special Events Coordinator
UWinnipeg faculty, students, and alumni are leaving their mark in the field of English. Read their stories:
UWinnipeg prof takes book prize
---
View English Factsheet [PDF]  |  See Academic Calendar Information [PDF] | Visit Department Website
Looking for more information? Please fill out the form below.