Criminal Justice

---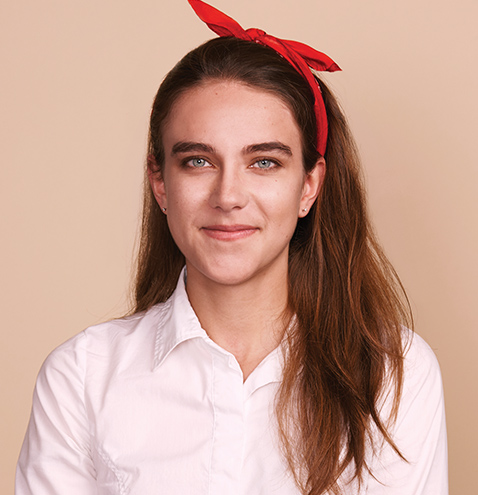 "I'll connect with the community to build relationships." — Elise Alder
Third-year student Elise Alder is pursuing a career in law enforcement to help make a positive impact on at-risk and vulnerable individuals. She believes taking a holistic approach to justice is the best way to decrease crime and increase the vitality of communities.
"I think police have really such a huge opportunity to connect with the public," she said. "So I decided that studying Criminal Justice was a way that I could make an impact in my community while playing to my strengths and desire to have a really dynamic work environment."
Alder also wants to remove the misconceptions people have about the justice system, while also acknowledging there are changes to be made to it.

"There is a need to develop more effective models of justice," she said, "and that requires both an academic discourse, as well as the practical application of criminal justice practitioners in various sub-fields."
Coming to The University of Winnipeg for her studies was an easy decision. Alder said the small, close-knit environment, central location, and the department's highly regarded faculty members appealed to her.
While she's undecided on pursuing a master's degree or going into the workforce next year, her dream is to become an officer in the Winnipeg Police Service.
"I want to make people a little more relaxed about the justice system and ensure it's working as effectively as it can."
---
What is Criminal Justice?
Do you want enter law enforcement and become a police officer, work as an addictions counsellor or youth advocate, or pursue Criminal Justice or socio-legal studies in graduate school? If so, UWinnipeg's Criminal Justice program is for you. You'll focus on different aspects of the criminal justice system, including police, courts, and corrections while exploring the social response to crime and analyze policies designed to improve justice. Our graduates have gone on to careers with Canada Customs, the RCMP, Winnipeg Police Services, and corrections as well as the study of law and social advocacy work.
Make an impact
Interested in law enforcement? Patrol the streets of Winnipeg as a police officer, guard our borders with the federal government, or protect Manitoba's rural communities with the RCMP. If social work is your passion, work as an addictions counsellor, social service provider, or a parole officer. With a Criminal Justice degree, the doors open to a wide range of career opportunities.
Career opportunities
Police Officer
Border Services Worker
Social Service Provider

Addictions Counsellor
Parole Officer
Community Support Worker

UWinnipeg faculty, students, and alumni are leaving their mark in the field of Criminal Justice. Read their stories:
UWinnipeg launches Centre for Access to Information and Justice
Digitizing Justice conference inspires lively dialogue
Frozen Justice videos explore Canadian crime film research
---
View Criminal Justice Factsheet [PDF]  |  See Academic Calendar Information [PDF] | Visit Department Website
Looking for more information? Please fill out the form below.