Business and Administration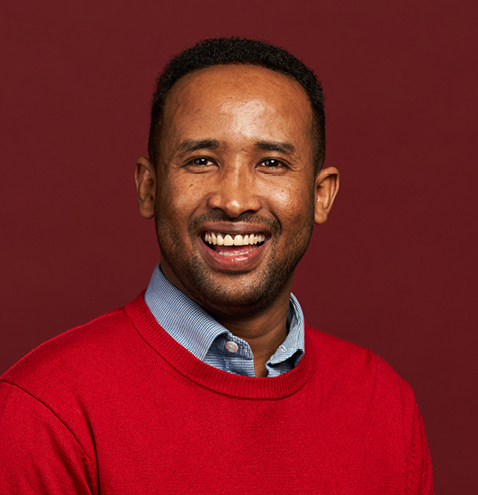 "One of the things I want to do once I earn my CPA is volunteer and continue to add value to the community." – Bedel Shafe'a
Bedel Shafe'a is aware of the myths associated with the accounting profession. He understands the industry often conjures images of pocket-protector-wearing number crunchers crammed into a room.
However, for Shafe'a, a fourth-year Business and Administration student with a focus on accounting who will graduate in spring 2022, those tropes provide nothing but a thorough misunderstanding of what accounting can be. Accounting, Shafe'a believes, can be a tool for societal growth. As the profession has evolved, it has become a way to reach out to the public, an instrument for long-term planning, and resource for those attempting to achieve financial goals.
"Last year, I worked with CPA Manitoba on one of their Financial Literacy workshops, which teach people how to manage their finances and protect their long-term assets," he explained. "One of the things I want to do after I get my CPA is volunteer and continue to add value to the community because accounting is more than just a bunch of people sitting in an office. It adds genuine value to the community."
Shafe'a has witnessed firsthand the value of accounting in the community while participating in UWinnipeg's Inner-City Work-Study program. He worked with a non-profit organization that supports newcomers, refugees, and international students in finding settlement resources in Winnipeg. He's seen the real-world impact he can have with accounting – on the ground, not just in the boardroom – and this includes his efforts on campus.
As a board member of the UWinnipeg Students' Association, executive advisor to the World University Services of Canada UWinnipeg Local committee, and vice president of the UWinnipeg Accounting Students' Association, Shafe'a was able to assist his fellow students and counts his time serving his peers as among the most rewarding experiences of his years on campus. The breadth of student groups within the Business department, including BASA, UWASA, FESA, and JDC West, and how students from all departments can connect are among the experiences he will miss most. He believes student groups are an integral part of student life during post-secondary education.
"That's where you get the next-level student experience," Shafe'a said. "You meet people who will potentially become your colleagues one day, like-minded people, and connect with them, have events with them. During my time here, I tried to get involved with as many student groups as possible and leave my mark."
As Shafe'a prepares to embark on his next adventure, which will see him begin his accounting career with one of the major assurance companies in the country shortly after graduation, he plans to continue doing community service and giving back to his community and those around him.
---
What is Business and Administration?
Recognizing, preparing, and adapting to change are the hallmarks of good business leadership. In this ever-changing world, the demands of employers are evolving and challenges once local are now global. From the fundamentals of accounting, marketing, and operations management, you'll be taught the principles of business and management, preparing you for work in not-for-profit organizations, cooperative enterprises, and the public sector.
Make an Impact
Adapting to an ever-changing workforce is one of the most important traits of business. Whether you decide to start your career or pursue graduate studies, you'll be well-equipped with the right skillset needed to success. Past graduates have gone on to work in accounting firms, start their own successful local business in Winnipeg, and lead non-profit organizations.
Career Opportunities
Business Operations Manager
Market Research Analyst
Entrepreneur
Human Resources Specialist
Accountant
Financial Analyst

UWinnipeg faculty, students, and alumni are leaving their mark in the field of Business and Administration. Read their stories:
Budding student entrepreneurs explore business venture
UWinnipeg partners with AFOA Canada and CPA Canada
UWinnipeg business students score big at JDC West
---
View Business and Administration Factsheet [PDF]  |  See Academic Calendar Information [PDF] | Visit Department Website
Looking for more information? Please fill out the form below.