"We Are All Relations": An Indigenous Course Requirement (ICR) as Part of a Good Way to Reconciliation
Community Engagement Research
---
By Helen Lepp Friesen
This mixed-methods study consulted with students, faculty, and staff members to develop insight into the range of their experiences of the Indigenous Course Requirement (ICR) in its initial implementation in the 2016/17 academic year at The University of Winnipeg. Although students and instructors had suggestions for how to improve course content, development, delivery, and support, there were far more positive reactions to the ICR experience than negative.
Faculty indicated concern about a potential backlash from students especially in "dominant locations", but findings showed a better than expected result. The engaged, enthusiastic students had a direct impact on professors also having a positive experience, whereas the disengaged antagonistic students caused concern for both professors and classmates. Themes that emerged from the positive learning experiences were the importance of relationships, respect, safety, an eagerness to learn together with and from Indigenous peoples, and a desire to work together towards reconciliation for a better and more inclusive educational system and society.
Challenges that faculty, staff, and students indicated were the pressure on Indigenous students to take on the role of token authority on "the" Indigenous experience, how to sensitively support students and staff when talking about a traumatic history, and how to manage contentious discussions in class. There was consensus that racism and lack of knowledge exists and that education and relationships are key to changing stereotypes.
Recommendations for improvements were gleaned from participant suggestions. Necessary components to moving forward in a good way included providing students with more information about the ICR and the intentions behind it, and more support services, training, and debrief mechanisms for all involved.
Keywords: ICR, Indigenization, racism, reconciliation, TRC, UNDRIP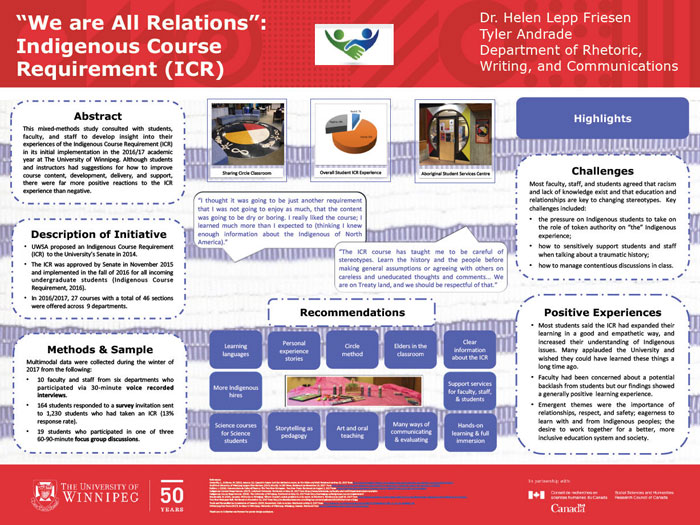 Click here to download a copy of We Are All Relations: An Indigenous Course Requirement (ICR) as Part of a Good Way to Reconciliation.