Awards in Arts
---

---
Full Awards List
+ ARTS STUDENTS AND AWARDS - Click to expand

Cameron Adams Truth and Reconciliation Commission of Canada Scholarship

Anjolajesu Aderinto The Skoog Prize

Elisa Alder Friesen-Wendl Corrections Memorial Scholarship; R. Fletcher Argue Scholarships

Rowan Balchen Walter Leatherdale Entrance Scholarship – Year 2

Laura Bergen Dr. Paul H.T. Thorlakson Scholarship in Canadian History; Victor Batzel Scholarship in the Humanities

Cierra Bettens Enbridge Pipelines Inc. Scholarship

Gwendolyn Bowen University of Winnipeg Women's Auxiliary Scholarship in Criminal Justice

Jamie Bradshaw UW Women's Auxiliary Scholarship in Theology

Melanie Brandow Norman Kehler Spanish Studies Scholarship

Jenna Brown Steven Andrew Hurst Memorial Award

Mason Chennells Mr. and Mrs. Ong Hoo Hong Emerging Writers Prize

Hayley Chestley Condren Rex Keatinge Scholarship in Criminal Justice

Samuel Collett Gisela Saborowski Memorial Scholarship

Denise Dela Cruz William "Billy" Murphy Scholarship in Theatre

Emilie Derkson-Poirier Bethia Henry Memorial Scholarship in Sociology

Corey Diamond-Burchuk Marsha P. Hanen Entrance Scholarship – Year 1

Felix Doyle Condren Rex Keatinge Scholarship in Criminal Justice

Christopher Dueck Alexander and Catharine Smith Scholarship in Sociology

Carla Dyck Walter E. Swayze Scholarship in English

Caley Dyck Angela Elizabeth Davis Memorial Prize in Art History

Nettie Dyck R. Fletcher Argue Scholarships

Rory Ellis D.J. Jessiman Scholarship in Political Science

Ezra Enns R. Fletcher Argue Scholarships

Dianna Evangeline University of Winnipeg Women's Auxiliary Scholarship in WGS

Aluk Fontaine Richardson Rose Nolan Scholarship

Cameron Franzmann Condren Rex Keatinge Scholarship in Criminal Justice

Gianna Froese Chancellor's Special Entrance Scholarship

Sonia Gaiess Robert and Kathryn Young Scholarship in European History

Emily Gartner Muriel and Michael Ewanchuk Scholarship in History

Kate George Bethia Henry Memorial Scholarship in Theatre and Drama

Emma Haalboom Meadwell Scholarship in French

Ellen (Kell) Hagerman Kay Unruh Des Roches Memorial Scholarship

Katherine Hall Bethia Henry Memorial Scholarship in Theatre and Drama

Alina Hart Stanley Knowles Scholarship in Political Science

Julia Hayes George A. Grierson Memorial Scholarships

Chloe Heinrichs George A. Grierson Memorial Scholarships

Teresa Horosko Mr. and Mrs. Ong Hoo Hong Emerging Writers Prize

Olivia Kehler R. Fletcher Argue Scholarships

Luke Klassen R. Fletcher Argue Scholarships

Emma Ko R. Fletcher Argue Scholarships

Krystal Korman Freemasons of Manitoba Award in Human Rights

Kiera Lamont-Walford Garnet Kyle Scholarship – Year 1

Julie Laurendeau Dr. John and Elizabeth Coté Award for Highest Standing in Psychology Methodology; Patrick Deane Provost Prize

Demian Lawrenchuk Dr. Tobasonakwut Kinew Scholarship for Culture, History and Language

Kennedy Link Dr. John and Elizabeth Coté Award for Highest Standing in Psychology Methodology; Victor Batzel Faculty of Arts Research Scholarship

Devon Medeiros Condren Rex Keatinge Scholarship in Criminal Justice

Hyeseul Min Buhler Economics Major Scholarship

Toby Monks Alumni Entrance Scholarship

Luc Moulaison David R. Dyck Prize in History; Joseph Wolinsky Memorial Scholarship in the Social Science

Sharissa Neault University of Winnipeg Women's Auxiliary Scholarship

Sarah Olding R. Fletcher Argue Scholarships

Ciarra O'reggio The Judith F. Gainsbury Memorial Scholarship in Creative Writing

Chantal Parenty Larry A. Didow Scholarship for Students (with a Learning Disability)

Lara Penner-Goeke The John Roberts Prize for Excellence in Undergraduate Research

Dagen Perrott Kevin Freedman Mature Student Scholarship

Amanda Rivers Dr. Royden and Dr. Angela Davis Memorial Scholarship; Jo Lindal Memorial Scholarship

Jazlyn Rohatensky Rutherford-Altnow Scholarship in History

Karissa Ross Jack Little Memorial Scholarship

Samantha Sawazki James E. and Lyna McNeil General Proficiency Scholarship

Samuel Selk Erica and Arnold Rogers Scholarship in Criminal Justice

Simran Sidhu Condren Rex Keatinge Scholarship in Criminal Justice

Sarah Struthers Sharon Greening Award

Darien Tayler Condren Rex Keatinge Scholarship in Criminal Justice

Alazar Tessema The University of Winnipeg President's Scholarship for World Leaders

Alyssa Thomas Judge Walter J. Lindal Memorial Scholarship

Anna Verbytska Robert P. Purves Memorial Scholarship

Lauren Wilton Iva Stewart Leins Scholarship

Shae Yakichuk The Mabel & Jack - Mabel Slatcher McPhedran and Jack McPhedran Tribute Bursary

Davy Zacharias R. Fletcher Argue Scholarships

Monica Zimnicki Henry Enns International Disabilities Rights Scholarship

Featured Arts Student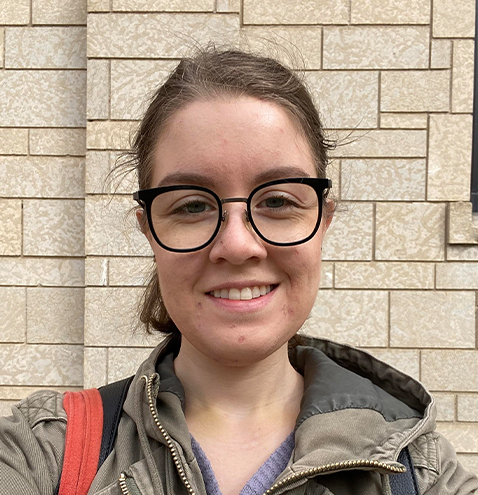 Laura Bergen
Dr. Paul H.T. Thorlakson Scholarship in Canadian History; Victor Batzel Scholarship in the Humanities
"The scholarships I receive have also meant that I can enter grad school with a greater level of financial stability and for that I am very grateful. So, I'd like to thank the donors that have made our scholarships and awards possible. Your support has been a bright spot in a rather dark year. Hopefully one day I'll be able to thank you in person, in a room with a bunch of students, professors, and donors, and hopefully while wearing actual pants. Thank you."
---
Message from the Dean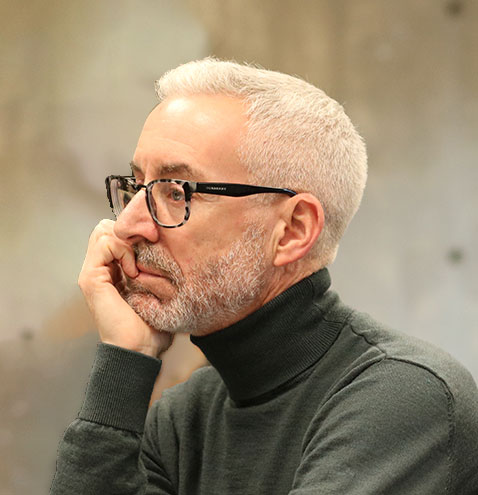 Dr. Glenn Moulaison
Dean of Arts, The University of Winnipeg

"The Awards Night of Excellence is one of my favourite events in the academic year because it allows us to do two things: the first is to congratulate our outstanding students who have done amazing things over the past year and also it allows us to thank our donors who support and fund many of these awards.
"On behalf of the Faculty of Arts, and all of the people within it — the professors and the staff — I wish to congratulate all of our amazing students who have done wonderful things over the past year. This year was more challenging than most, so congratulations to all our students and also thank you to all of our donors who support our students, all of our programs, and help us deliver a wonderful experience to our students."
---
Awards and Funds
---