Teaching writing online: Starting the conversation
Thu. Apr. 30, 2020
Switching entirely to online course delivery in March was unprecedented. But then, a lot of things about the COVID-19 pandemic are. It's reassuring that courses continued and students' programs weren't interrupted. Still, it's important to recognize that this has been a major adjustment for faculty. We're heartened by hearing how departments and faculties have navigated this change so positively in these uncertain times. But as with all change, it can be difficult and stressful. So we're calling on faculty who have experience with online course delivery and asking them for their best tips to share with other faculty.
In this, the second in a series, Dr. Jaqueline McLeod Rogers looks in particular at teaching writing online. McLeod Rogers offers some strategies based on her experience. As well, she starts a conversation about teaching online, one that faculty members are invited to continue online in order to create a resource for all.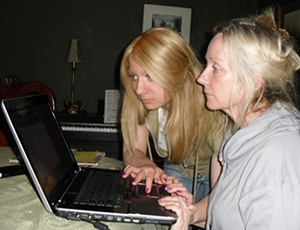 Jaqueline McLeod Rogers with daughter Morgan Rogers
Photo credit: W. Rogers

Taken from: McLeod Rogers, Jaqueline. (2011). "Moms and Teen Daughters: Make Room for the Internet" in Harlot: A Revealing Look at the Arts of Persuasion, No. 6.



Like it or not, ready or not, here we come: About eight of our faculty are teaching spring courses online, and some of the particular challenges of teaching writing depends on student-writers sharing drafts and usually requires us to set up writing groups for peer comments and editing.
Passing on tips about online teaching is a bit daunting. Over the past few years, I have only taught online twice, Digital Rhetorics: a course designed to be offered 100% online and asynchronous. I would judge the results to have been  . . . a partial success. I learned a lot. For one, I learned to stay visible and present even though we never convened as a group. It was important to weigh in on discussion threads to encourage further follow-ups and to show students I was really on board. I also learned it was useful to set up the Calendar and to make weekly announcements keyed to it. In something of the same way Trudeau hopes his appearances and announcements reassure a waiting nation, making weekly updates in the course Announcement page helps student to develop a work plan and cross-check with the course outline.
What not to do? Attempting to be on call twenty-four seven is a bad plan. Setting up availability and communication parameters is important from the get-go.
To support faculty conversations about how to use the teaching tools or troubleshoot online delivery, we in the Writing Centre have set up a Nexus page for online teaching faculty. To enroll, just contact Kevin Doyle (k.doyle@uwinnipeg.ca), who can arrange to enter you as an instructor participant. We will post resources and links you want shared. And we hope you will spark or follow conversation threads. The Tutoring Centre on the third floor of Graham Hall has fallen quiet these days. We are at work to assemble some online tutoring hours that may be of benefit to your students and will announce access and availability options closer to start of spring term.
See also: