Making the online switch during COVID-19
Mon. Apr. 13, 2020
Switching entirely to online course delivery in March was unprecedented. But then, a lot of things about the COVID-19 pandemic are. It's reassuring that courses continued and students' programs weren't interrupted. Still, it's important to recognize that this has been a major adjustment for faculty. We're heartened by hearing how departments and faculties have navigated this change so positively in these uncertain times. But as with all change, it can be difficult and stressful. So we're calling on faculty who have experience with online course delivery and asking them for their best tips to share with other faculty.
In this, the first in a series, Dr. Jane Barter, Professor of Religion and Culture, shares some practical advice for Making the online switch during COVID-19. Barter offers some suggestions as to what works – and what doesn't – when teaching online, and in doing so she provides the reassurance that some faculty might find they need now.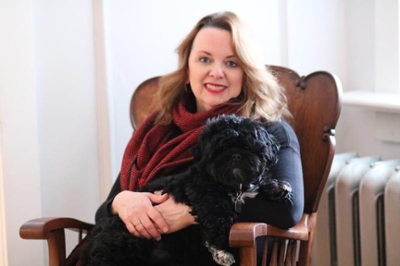 Dr. Jane Barter is pictured here with her little dog, Leonard.
Barter cautions faculty who finished their classes online in March not to be too hard on themselves. "We are just good enough professors right now. Soon we will get to strive again for excellence in the classroom," she says.
Photo credit: Naniece Ibrahim
(This photo was taken as part of Ibrahim's series "Teacher's Pet.")



As someone who has taught online a great deal in the past (when I was in the Faculty of Theology we had to run many of our courses online), I discovered that there is a great deal of difference between intentional and emergency online teaching. With intentional online teaching, it is possible to form a community of learners almost as engaged as students would be in the regular classroom. During an emergency, you do not have the opportunity to create that kind of experience, and my sense of students at this time is that they are too preoccupied to engage regularly in an online discussion. Here is what I found has worked and what has not as I experimented with my courses this term:

What works:

Asynchronous and personal methods of communicating. Students are anxious and they prefer, I think, to contact their instructors directly rather than engaging in a classroom activity. Email has become a priority for me, meaning I try to respond to student queries as soon as possible.

Zoom - Love it or hate it, you can't beat its convenience and user-friendliness (Zoom bombing malware excepted). Having personal, visual contact that is easy to arrange has made this a very useful teaching tool. I do not make Zoom meetings mandatory because I cannot take for granted that my students will be available at this time.

What doesn't work:

Rigidly adhering to your old syllabus and trying to translate it into this new reality. We all need flexible options at this time.

Expecting students to be as engaged with the content as they were in the classroom setting. Our classes are not the same classes that we taught a month ago. An online medium is an almost impossible one to use when trying to quell student anxieties or engage groups of students who were in your class for another kind of experience. Give yourself and them a break, not by lowering standards, but by lowering expectations. We are just good enough professors right now. Soon we will get to strive again for excellence in the classroom. Excellence in teaching--skills that require time and preparation--is yet another thing that we have lost in this pandemic, but thankfully, not forever.