Theatre, academia, and directing: A word with Christopher Brauer
Fri. Jan. 10, 2020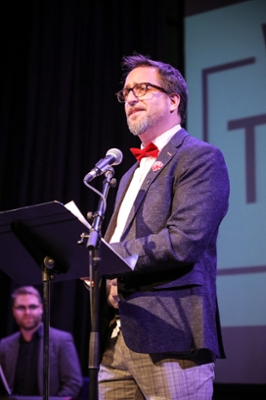 Christopher Brauer received the award for Outstanding Direction at the Winnipeg Theatre Awards in 2019.

Photo credit: Leif Norman

John had a really big night November 4, 2019; the production received three Winnipeg Theatre Awards, including an award to UWinnipeg's theatre professor Christopher Brauer for Outstanding Direction. The Royal Manitoba Theatre Centre's production of the play by Annie Baker ran at the Tom Hendry Warehouse in April 2018. In addition to the award for Outstanding Direction, the play received the awards for Outstanding Production and Outstanding Supporting Actress (Maggie Nagle). It was also nominated for Design and for Outstanding Supporting Actress (Terri Cherniak). Brauer has become an increasingly sought-after director, and on July 1, 2019 became the new Department Chair of Theatre and Film.
Recently, Brauer took some time to talk about how he came to work in theatre and academia, his important influences, and his vision for, and approach to, directing John.


Can you tell me a little about John by American playwright Annie Baker?
John is about the relationship of a young couple, Elias and Jenny, who visit a bed and breakfast in Gettysburg, Pa. It is clear, he says, that the house is haunted. It is also clear that the owner, Mertis, and her friend, Genevieve, have a relationship with the haunting, and that they are in communication with the house, making the house itself a character. Brauer adds - spoiler alert - the couple's relationship doesn't make it, but they grow as people through the experience.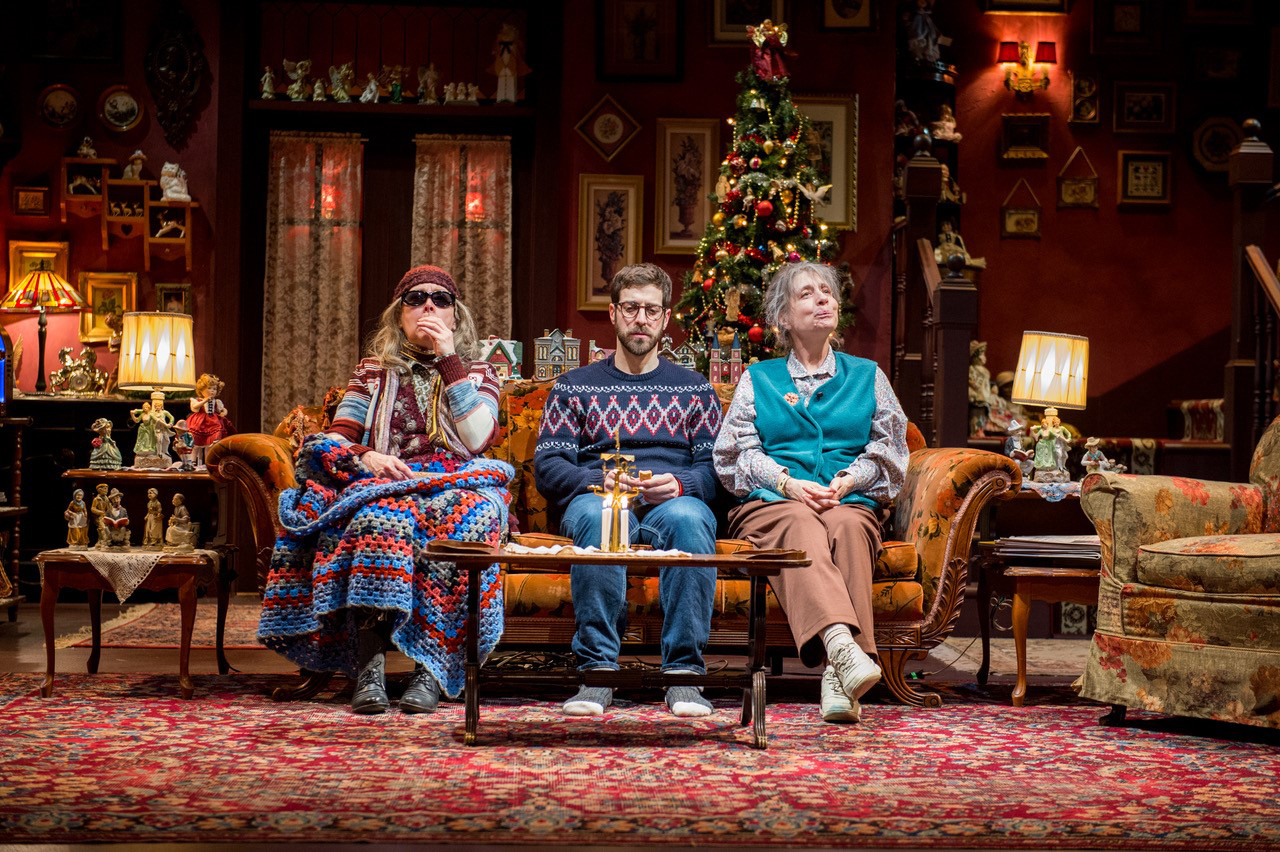 Elias (David Reale) sits between Mertis (Maggie Nagle), right, and Genevieve (Teri Cherniak). It is clear that the house is haunted and that Mertis and Genevieve have a relationship with the haunting.
Photo credit: Dylan Hewlett/RMTC
What did your role as Director for John entail?
Brauer explains that with a play as multilayered and complex as John, "the director has to try to find a path through it." What was the playwright aiming for? Brauer likens a script to a skeleton in contrast to a novel which gives you the whole body. With a script, he says, you have to figure out what lies underneath, and determine the psychology, motivations, and actions that will support the text.
Much of the work of the director takes place before the production is even cast. For John, Brauer says, there was a full year of research, study, and analysis. As director, he had to make recommendations for design, sound and lights, and to build a picture of the world of the play. This play, he notes, was written by an American playwright and speaks to the American culture. Therefore, it is necessary to make sure it will make sense to an audience here in Winnipeg.
The director works with designers to come up with a vision. According to Brauer, the basic elements and structure are provided by the playwright. For this play, Mertis (played by Maggie Nagle) is the owner of the bed and breakfast and is a collector of tchotchkes. The bed and breakfast is a two-story house and the set must have doors to the wings and a CD player. Brauer explains that the challenge for the director and designer is to create this setting within the architecture of the theatre and then to work in the subliminal elements that will support the ideas of the playwright.
Brauer showed me the design board for John and scrolled through images of Neo-Gothic houses that existed around the time of the Battle of Gettysburg. He stops at the one they eventually selected as their inspiration, a white two-story that was actually a hospital in its history. The audience never sees the second floor, but they do hear it, so the B&B needed the sense of an upstairs. However, the production couldn't have a full ceiling, because they wouldn't be able to put lights through that. So, instead, they devised a series of beams that gave the look of a beamed ceiling.
The overall effect, says Brauer, is of a structure that is "awkward and cobbled together." The furnishings were mismatched flea market purchases, and tchotchkes were displayed on literally every surface. Brauer says that the wall colour, an "organic dusty blood red," was chosen to suggest that the structure was alive. Outdoor light through large windows was used to signal how the characters moved through the day. Two lights glowed like eyes from outside two doors at the back of the set which added to the "unsettled quality" of the space.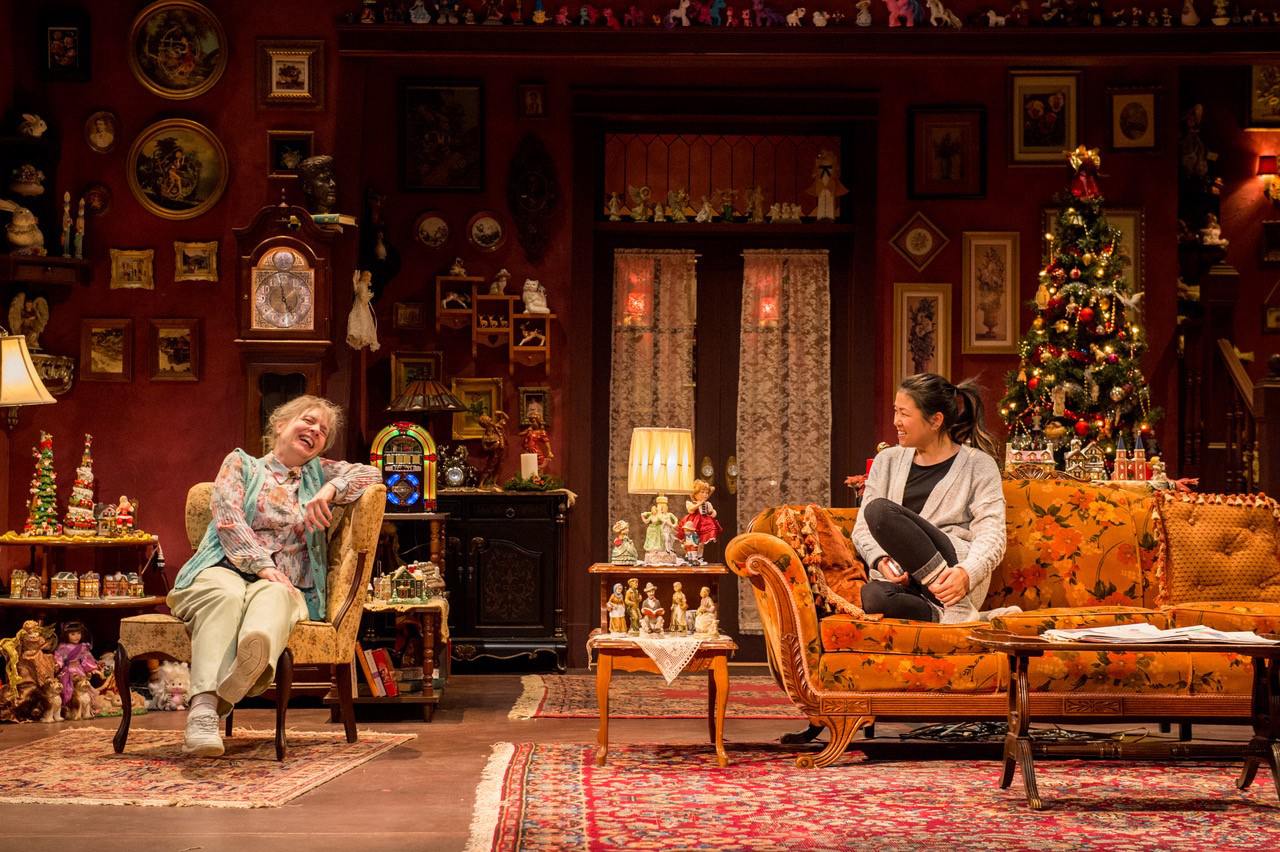 Mertis shares a laugh with Jenny (Rosie Simon). Tchotchkes were displayed on literally every surface. The wall colour, an "organic dusty blood red," was chosen to suggest that the structure was alive.
Photo credit: Dylan Hewlett/RMTC
What is your greatest strength as a director?
Brauer feels that his strength is that he is a good collaborator. He tries to create a context in which everyone can do their best work and to empower others to be equal voices in the process. It's important to him that collaborators be invested in the production. Communication is important too, he says, as you're bringing together a group of professionals, each of whom is smart, creative, and talented in their own right. It's important to have buy-in. Brauer likens it to a hockey game. Everyone knows how the game is played, but they don't know how this game will go. When you come together to put on a production, everyone knows how to their job, but not how that will work on this play. Brauer adds that he tends to have bold esthetic visions.
When did you first realize you were drawn to the theatre? And, when did you start directing?
This was an easy question for Brauer. He remembers exactly when he became interested in theatre. When he was in grade 11, a teacher suggested he audition for Shakespeare's Twelfth Night. That experience showed him a new way forward. Brauer says that he did theatre in university, thinking maybe he would be a high school drama teacher. It wasn't until he'd graduated with his Masters of Fine Arts that he started directing. For him, directing came with teaching.
Have you had important mentors who have shaped the director you've become?
Brauer names Ken Gass, former artistic director of the Factory Theatre in Toronto, as an important influence. And, he says, Herbert Olschok, who was with the Berliner Ensemble, was a former teacher of Brauer's and introduced Christopher to the "director forward approach" to directing through which the director amplifies the theatricality of the stage. This approach would be in contrast to that of someone who prioritizes the playwright's vision over the director's. And since, he says, this latter approach characterizes the work of Ken Gass, Brauer concludes that he was fortunate to have had both as influences.
When you're teaching, what is it about directing that you want your students to take from working with you?
Brauer articulates that theatre isn't good at representing literal reality. That's the place of film and TV, he says. Unlike film, which was made in the past and can seem like documentary even when it's not, theatre is live and happening in the moment. His advice, then, to his students is to "Make it true and honest such that it speaks to the essence of experience. But don't pretend that it's life. It's theatre – it's more than life."
Lisa McLean
Faculty of Arts
See also: