A Look Behind the Scenes: An Interview with Melinda Tallin (THFM)
Tue. Nov. 26, 2019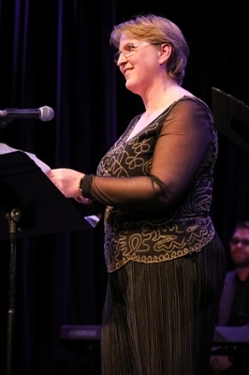 Melinda Tallin (THFM) received an honorary "Behind the Scenes" award at the Winnipeg Theatre Awards on November 4, 2019.
Photo credit: Leif Norman

"If you love what you do, you'll never work a day in your life." And so it is for Melinda Tallin, University alumna (BA in Religious Studies) and Office Manager and Student Advisor in the Department of Theatre and Film (THFM). Prior to joining the Department, Tallin worked for 22 years at the Royal Manitoba Theatre Centre (RMTC) as the Artistic Coordinator. On November 4, 2019, at the West End Cultural Centre, Tallin received an honorary "Behind the Scenes" award at the Winnipeg Theatre Awards – or Evies as they're known. The award was the result of a joint nomination by RMTC and THFM. I caught up with her later that week to find out more about her work in theatre and her special perspective from behind the scenes. 

When did you become interested in theatre?
At 10, Tallin's first theatre experience was seeing Alice Through the Looking Glass and remembers it as being so much fun.
When did you become involved in theatre yourself?
Tallin's quick to note she didn't perform herself but was involved backstage in school productions. In high school, she was in charge of props for two big musicals, Fiddler on the Roof and West Side Story. (When you see her, you might want to ask her about a little fire in the prop room. . . ) Already, Tallin could see that she was attracted to the energy of the theatre and loved hanging out with theatre people.
How did you come to work in theatre?
Tallin started a theatre arts and administration diploma program at Confederation College. That involved a placement at Prairie Theatre Exchange (PTE) which, ultimately, worked into a fulltime position as tour coordinator. PTE has been taking live theatre to communities around the province for years, she says. At that time, four actors and a stage manager would travel around rural Manitoba, doing as many as three performances a day. And, she adds, she had a great deal of respect for the work they did on tour. It took great commitment, she explains, because they had to move the sets from location to location and worked entirely with an ever-changing cast of volunteers. Tallin likens her role as tour coordinator to undertaking a big puzzle: she mapped out their route and made all the arrangements, while being careful to work within the union rules! While we were still talking about her time at PTE, Tallin acknowledges Pat Elsworth, a mentor to her at PTE, as "gracious, kind and polite," adding that though her mentor is not well known in the theatre community, she should be!
What did your job at RMTC entail?
As Artistic Coordinator, Tallin worked closely – even sharing an office – with, then, Artistic Director, Steven Schipper. Of Schipper, she says, "He's so funny and wise with interesting thoughts, a bit quirky, and such a great artist. I still miss his friendship every day." Her position, she says, involved setting up auditions for the actors, working as Steven's assistant, and serving as a liaison between the artistic team/department and the theatre.
What was your favourite experience during your time at RMTC?
By far her favourite experience at RMTC, she says, was her involvement with the lawyers' plays. These are plays put on by Winnipeg lawyers – they have to be members of the Manitoba Bar Association – but they are supported by professionals at RMTC. And she smiles as she adds, as far as favourite experiences at RMTC go, she would have to include working with the "incredible Steven Schipper"!
What was the most difficult thing about the transition to your new position?
Tallin admits it was a little daunting at first. She'd heard about Patty Hawkins, former THFM Office Manager and Student Advisor, and knew how highly regarded she was! (Hawkins and Tallin still keep in touch, she says, and if anything comes up "Patty still knows how things were done, where to find a particular file, etc.!") Being new to the University, Tallin wasn't familiar with the world of academia (RAS and CAS, tenure-track and term!) and all of the protocols and policies. But she's quick to note she was fortunate in that she started in the Department before Patty retired, so there was overlap for orientation. She says she had two years with Tim Babcock, former longtime Department Chair, who was very kind with her during the initial learning curve. And, she exclaims, "I would have been lost without the AMAZING Allison Loat [Production Coordinator]," saying that "I would not have been able to do anything here without her guidance, her vast knowledge, boundless generosity, her wisdom, and her friendship!"
What do you like most about the position?
Tallin shares that she was initially most scared of working with students, but that she was quickly "put to ease by their warmth and the way they embraced me." She also enjoyed getting to know Tim Babcock – or rather getting to know him again as they'd known one another from numerous Fringe Festivals spanning about 25 years – as well as getting acquainted with the other faculty members in the Department. She knew Christopher Brauer, present Department Chair, from his work as a director with RMTC and finds she is learning so much from him.
I read online that in presenting you with your award, Laurie Lam, Producer at RMTC, stated that "Melinda reminds us we must live truthfully and beautifully offstage" (@JoffSchmidt, CBC producer and theatre reviewer, on November 4, 2019). Can you say a bit about receiving the award?
Laurie Lam is a UWinnipeg alumna and a wordsmith, Melinda says. In fact, she adds, Laurie Lam is so good with words, that when Tallin arrived at the event with her own speech in-hand, she asked Lam if they could exchange speeches! More seriously, though, Melinda shares that she worked closely with Laurie and so it was special to receive the award from her, especially as she thinks of Laurie as the "soul of RMTC."
In closing, I ask Tallin about her favourite productions at RMTC and THFM.
RMTC 
Picasso at Lapin Agile - "such a warm cast"
Cabaret (directed by Michael Shamata) - "funny and smart"
THFM
Middletown - "the setting was so hard to put together, but looked so simple – the magic of the theatre!"
Concord Floral - "written for a cast of teenagers and so it was appropriate to the actors"
Lisa McLean
Faculty of Arts
See also: