THFM prof hosts audition prep
Tue. Mar. 5, 2019
Workshop feature (Part 1 of 3)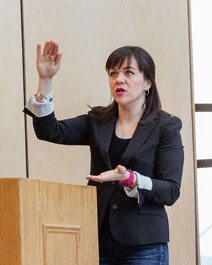 Prof. Shannon Vickers recently gave an audition prep workshop for students and alumni.
Photo credit: Bohdan Dyck

Prof. Vickers has coached over 30 professional productions; working with notable theatres such as Royal Manitoba Theatre Centre (RMTC), Theatre Projects Manitoba, Prairie Theatre Exchange, Sarasvasti Productions, Winnipeg Jewish Theatre, Shakespeare in the Ruins, Citadel Theatre and Canadian Stage. You may have seen her work in RMTC productions such as; Gone With the Wind (2013), Good People (2014), Hand to God (2017), Sense and Sensibility (2018), and recently, Roald Dahl's Matilda the Musical (Winter 2019). Today I'm participating in her workshop "Dialect Acquisition & Text Integration"; designed as "audition prep" for UWinnipeg students and alumni as they go into auditions for RMTC's auditions for its 2019-20 season. 
Vickers had approached me about her plans for the workshop back in January. "The workshop will supplement the pedagogy we explore in class in a more focused, practical approach for audition purposes," she'd explained. It's more work, at what I know to be, a busy time of year for faculty members like Vickers. But the timing is critical for students and alumni wanting to audition in Winnipeg's professional theatre community because, according to Vickers, RMTC will announce its new season February 1 and auditions are expected to take place at the end of February, so this is the ideal time to work with students and alumni who plan to audition. Working with RMTC's proposed season launch and subsequent audition schedule, Prof. Vickers has booked a date when they'll be able to use the 'sides' from the plays which will be made available online [parts of the script of a play used for an audition] which, she says, "really helps the actors hone in on the specifics of the auditions."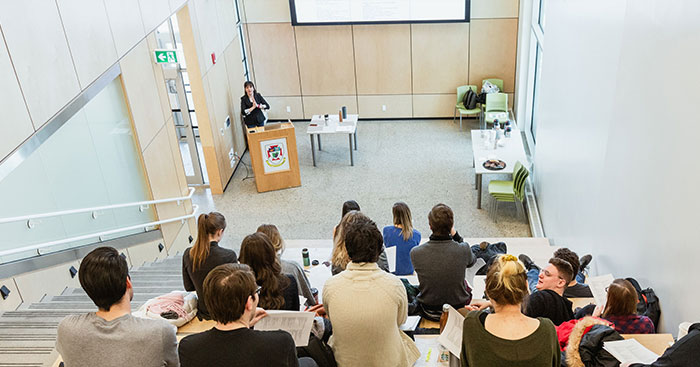 Prof. Vickers addresses the THFM students and alumni who have come to prepare for upcoming auditions.
Photo credit: Bohdan Dyck
Today, Prof. Vickers starts by addressing the group of theatre students and alumni which has gathered in Leatherdale Hall, saying that today's workshop will be "casual in nature, but rigorous in content", and outlines her plan for the day. For the morning, she says we'll be looking at the theoretical concepts of dialect acquisition; which is essentially a way to approach any dialect of English in North America or Britain. Vickers is trained in Knight Thompson Speechwork, and she's going to share with us how she approaches each show as a dialect and text coach - whether it's the Boston accent as in "Good People", a Southern Accent for "Hand to God" or Standard British as in "Sense and Sensibility". There'll be time over lunch for everyone to work with the sides, she says, and then in the afternoon everyone will be able to take turns rehearsing and putting theory to practice.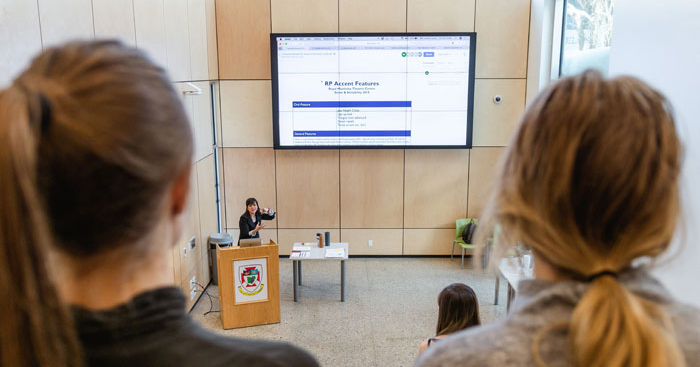 Photo credit: Bohdan Dyck

See also:
Lexical sets and more (Workshop feature, Part 2 of 3)
More from the audition prep workshop (Workshop feature, Part 3 of 3)