Catherine Taylor speaks with CBC's Ismaila Alfa on "Up to Speed"
Tue. Dec. 5, 2017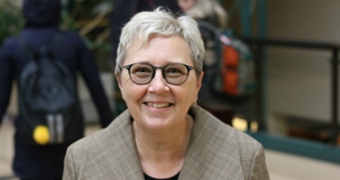 In response to the federal government's historic apology to LGBT2S people in the House of Commons on November 28, 2017, CBC invited Catherine Taylor, Associate Dean of Arts and Director of the RISE Research Program on LGBTQ-inclusive Education, to speak with "Up to Speed" host Ismaila Alfa on CBC radio (89.3 FM or 990 AM).


Alfa opened the segment by quoting Prime Minister Justin Trudeau, stating that the government's apology was for "decades of state-sponsored oppression and rejection by the federal government and its agencies." He then played an audio file of Trudeau addressing LGTQ2S Canadians, and then introduced Dr. Taylor and fellow guest, Garrett Wipf, who was formerly a member of the Homewood Hutterite community, and then asked each to speak of their personal reactions to the apology.
Taylor said that she felt "more moved" than she'd expected herself to feel and that she'd found herself reflecting on her life at the time when Trudeau's father, Pierre Elliot Trudeau, as Justice Minister, proclaimed that "There's no place for the state in the bedrooms of the nation" and introduced a change in law decriminalizing same sex relationships in the late sixties. Then a teenager, Taylor says it was a grim to time to be a LGBT youth and she had questions about her future and her safety, but Trudeau's words and actions, she says, gave her hope and helped her in the process of coming out.
Garrett said that he felt the apology "sounded sincere". His coming out in 2014 was much more recent, but his experience was still "very hard," he says, as he grew up Hutterite. He explains that he ran away and came out in a news article, and then started fighting for gay rights in the Hutterite community. He feels strongly that religion shouldn't determine whether or not you should come out.  He's been affected very personally, having received death threats and having been harassed on the street because he's been perceived as being too feminine. The restrictions on blood donation by LGBT people is one example he sees of the ways in which Canada is still homophobic.
In terms of social and change, Taylor says that there have been great strides made in term of the visibility of people in the LGBTQ community over the course of her lifetime, but she cautions that some parts of the LGBTQ2S community are still very marginalized, especially those, she says, who are affected by racism and poverty and those who are isolated in religious conservative communities.
In her research, Taylor has been addressing the situation of LGBTQ students in K-12. It's time, she says, "to start admitting kids into the dignity of ordinary everyday life at school. Just end this oppressive and completely unnecessary silence about the existence of LGBTQ people in the K-12 system, normalize the existence of LGBT kids, start talking about all the LGBTQ people already on the curriculum." She adds that there's "still a great deal of homophobia in the school system now, so the vast majority of LGBTQ teachers are closeted at work and that deprives LGBTQ youth of role models, of signs you can be happy and have a great life as an LGBT person, even if you're being bullied at school."
Click here to hear the "Up to Speed" interview in full.
For more information on Dr. Taylor's research, you can go to the Rise: Respect, Inclusion, Safety, Equity webpage, which serves as a hub for LGBT-inclusive education research in Canada.