New MA program in Criminal Justice
Tue. Oct. 3, 2017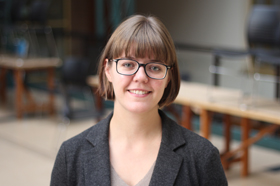 Dr. Bronwyn Dobchuk-Land, Criminal Justice
(Photo credit: Naniece Ibrahim)

As Dr. Bronwyn Dobchuk-Land, Assistant Professor in Criminal Justice, reports here, the Criminal Justice Department at the University of Winnipeg is excited to announce a new Master of Arts in Criminal Justice program, set to welcome its first students in Fall 2018.



The new Master of Arts in Criminal Justice program builds on an already strong record of success for the Criminal Justice department, which has seen significant growth in enrolments over the past decade (there are more than 600 CJ majors at present), and has prepared its many students for success in graduate school and careers in law, criminal justice, and policy development.
Criminal Justice MA students will have the option to apply to one of two streams: a professional/course-based stream, designed as a terminal degree for practitioners, or a thesis stream, designed for students interested in continuing to PhD work. The program will offer concentrations in criminal justice theory, methods, criminal justice policy, and program evaluation.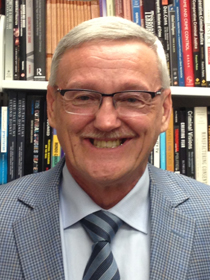 Left: Graduate Chair, Dr. Michael Weinrath
(Photo credit: Dr. Steven Kohm)
The Criminal Justice MA program will be chaired by Dr. Michael Weinrath, Professor of Criminal Justice, and it is expected to attract in-service professionals as well as undergraduates from Criminal Justice and related disciplines such as sociology, political science, and conflict resolution. The MA program will accommodate a variety of student lifestyles and goals. For example, it is designed to appeal to non-traditional students, particularly adult learners already established in justice and social-service professions. It will also emphasize opportunities for students to pursue electives in the graduate Indigenous Governance program, with a view to attracting students interested in issues of Indigenous justice.

Criminal Justice is a discipline that has arisen at the intersection of several disciplines, including law, psychology, sociology, urban studies, and criminology. The Criminal Justice Department at UW takes a broad, multi- and inter-disciplinary approach to the study of crime and justice. This is reflected in the varied research agendas of criminal justice faculty members, who are experts on wide-ranging topics from the regulation of sex work, the psychology of police lineups, and the pitfalls of private policing, to colonialism and racism in Manitoba's criminal justice system, responses to youth crime and domestic violence, corrections program evaluation, and cultural production about crime. The new Criminal Justice MA program will draw on the multi-disciplinary teaching resources within the department, while also encouraging students to reach out to take complementary elective options from other UW graduate programs like Indigenous governance, and the Masters of Public Administration Program.
The Criminal Justice Department will look forward to the benefits this program will extend to the University of Winnipeg community as we continue to collectively advance and explore important questions of justice from multiple vantage points.
For more information about the Criminal Justice department and the new MA program, please contact Graduate Chair Dr. Michael Weinrath (m.weinrath@uwinnipeg.ca) or visit the Criminal Justice departmental website.