Welcome from the Dean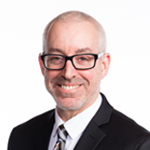 On any given day, you'll see someone learning a language, teaching Shakespeare, discussing Chomsky over coffee, talking about the politics of gender, writing on orality, thinking out loud, presenting on Northrop Frye, realizing fiction, fictionalizing reality, reading a book on the history of the book, listening to conflicting ideas, creating scholarship, researching art, taking a class on gangs or on line, playing with theory, testing assumptions, challenging certainty, mastering analysis, launching a critique of critique, crafting a beautiful argument or a convincing poem, figuring things out for oneself.
On any given day, you'll see students working closely with professors; you'll see professors and students out in the community, telling their story; and you'll see professors and students listening closely to the community's own.
On any given day, you'll see all of us engaged in constructing the world that should be – by understanding the world that was and the world that simply is. 
What we do in the Faculty of Arts is what is done in universities all over the world. At the University of Winnipeg, we do it extremely well. Come see.
Sincerely,
Glenn Moulaison
Dean of Arts
Also from the Dean of Arts: The Dean of Arts thinks the Faculty of Arts is AWESOME. See why.