Human Rights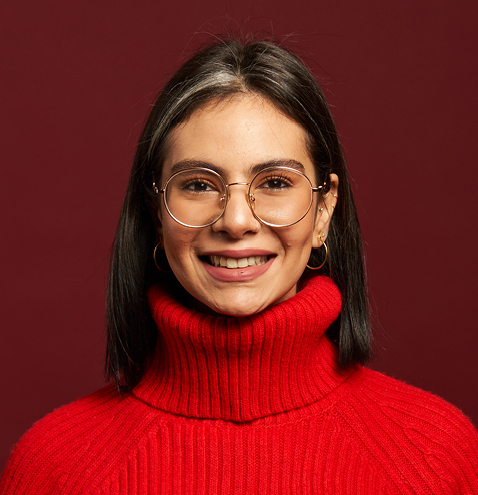 "My goal is to empower communities and find ways to make our world a place where no one should face discrimination of any form." — Magi Hadad
Magi Hadad's life experiences have shaped how she wants to make an impact on the world.
A fourth-year double major in Human Rights and Conflict Resolution Studies, Magi is from Syria, where her life was disrupted by war and displacement.
After arriving in Canada five years ago as a Syrian refugee, she decided to pursue an academic field that would provide her with the knowledge and educational tools for building peace and human rights advocacy.
"My layered experiences as a woman of colour and refugee have sewn my passion and made my goals of being a human rights advocate and a peacemaker clear," she said.
Over the course of her studies at The University of Winnipeg, Drs. Shauna Labman and Lloyd Kornelsen have been important mentors not only educationally, but personally as well.
As a newcomer to Winnipeg, Magi didn't know there was such a large Syrian community here until she was introduced through the youth program Kurdish Initiative for Refugees, created by community leader (and Magi's mentor) Nour Ali, who tragically passed away in 2020.
Now, even with a full class schedule, Magi makes time to volunteer within the community by supporting newcomers. She's currently the Co-Chair of the Newcomer Ethnocultural Youth Council of Winnipeg.
"(The council helps in) empowering newcomer youth to get engaged in the community and bring newcomer youth voices to decision-makers," she said.
And through the Human Rights practicum with Immigration Partnership Winnipeg, Magi has participated in and supported some of their advocacy work regarding anti-racism, such as co-planning anti-racism youth events.
With another year of university remaining until she graduates, Magi has her eyes set on one day obtaining a PhD.
While she isn't sure what her career path looks like right now, she knows that she wants to work with marginalized groups, women, youth, children, refugees, and people affected by war.
"Knowledge is the power that I can gain to raise my voice and stand up for the issues that I believe in," Magi said. "I believe no one should be treated unequally."
"My goal is to empower communities and find ways to make our world a place where no one should face discrimination of any form."
---
What is Human Rights?
Do you want to explore social justice, global citizenship, and human rights? This multidisciplinary program — the only one of its kind in Western Canada — delves into the issues of human rights in a context defined by globalization. By the time you complete this program, you will have developed the knowledge and analytical skills needed to start your career in the public or private sectors, and also gain an excellent background for law or graduate school.
Make an Impact
Human rights can be applied to almost any field — from law to technology to journalism. As a lawyer, you can work in immigration, criminal justice, and labour and international law. As a tech professional, you can help companies create systems to collect and analyze data recording human rights abuses. As a journalist, you can bring attention to human rights by reporting and writing stories.
Career Opportunities
Human Rights Lawyer
Refugee Rights Activist
Community Centre Director
Immigration Rights Advisor
Social Worker
Policy Analyst
Media Correspondent
UWinnipeg faculty, students, and alumni are leaving their mark in the field of Human Rights. Read their stories:
Kristi Kenyon on city's first Human Rights Committee of Council
UWinnipeg prof co-edits new book on refugees
UWinnipeg alum wins 2018 Manitoba Human Rights Commitment Award
---
View Human Rights Factsheet [PDF]  |  See Academic Calendar Information [PDF] | Visit Department Website
Looking for more information? Please fill out the form below.