Accessibility Supports
Convocation
---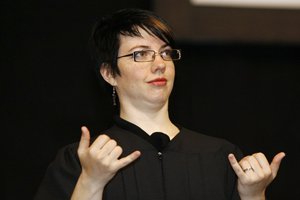 The University of Winnipeg tries its best to ensure all events are as accessible as possible, for both graduates and guests. Graduates with limited mobility should know that the Academic Procession follows an extended walking path which includes a long, steep set of stairs with no handrails.
If this is a concern, alternate arrangements can be made. To gain access to the stage you have a choice: a few stairs with a single hand rail or a ramp. During the ceremony, graduates are also required to stand for extended periods of time before going on stage. We strongly advise students or guests who have limited mobility or accessibility needs to arrive early. Doors will open one hour before the ceremony begins.
Guests with limited mobility may be dropped-off at the entrance of Duckworth Centre on Spence Street, however vehicles will need to park elsewhere for the duration of the ceremony. Traffic on Spence Street is strictly limited to vehicles dropping-off guests with accessibility needs or limited mobility. Guests with accessibility needs who require alternate seating should speak to the ushers when they arrive and will be seated appropriately. Please note that the University does not provide wheelchair services or mobility escorts.

American Sign Language-English interpretation will be provided for the duration of the Convocation
If graduates or guests have any questions or concerns regarding accessibility, we ask that you call 204.786.9745 to discuss your particular needs.
< Back to Information for Students