Adrienne Tessier
Convocation
---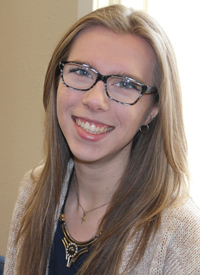 Adrienne Tessier, BA (Honours)
Valedictorian
Adrienne Tessier is both academically gifted and a strong, engaged leader who is passionate about social justice and creating a better community for everyone. She has served as arts director with The University of Winnipeg Students' Union and as deputy premier with the Youth Parliament of Manitoba — a role she says is "extremely rewarding because we connect our youth to the democratic process and give them the tools to create change."
Among Tessier's many academic accomplishments, she was awarded the prestigious Dr. and Mrs. Rodrick Hunter Scholarship and has been on the Dean's Honour List as a "Student of Highest Distinction" for three consecutive years. Most recently, she received the Community Advocacy Internship (Department of Urban and Inner-City Studies), which allowed her to gain valuable experience as a researcher with the Public Interest Law Centre. This work cemented her dream of going into law to specialize in human rights or constitutional matters.
For the coming year, Tessier will be fine-tuning her political science knowledge: she has been selected to work full-time as a legislative intern at the Manitoba Legislature.
As valedictorian, Tessier's message to her fellow graduates is one that is near to her heart: "The world, more than ever, needs critical thinkers. Inquiry and asking questions is important and valid and needs to be valued. That is the strength of a liberal arts education."