Honorary Address - John Langstaff
Spring Convocation 2008
---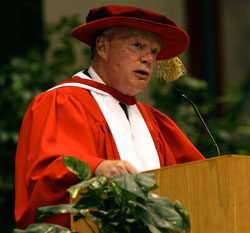 I would like to thank President Axworthy, Chancellor Riley, Ken Friesen and The University of Winnipeg for conferring  this degree upon me. It is a tremendous honor to myself, to my family present today and to my extended family across Manitoba and Canada.
My great-grandfather was a farmer and immigrated to rural Manitoba in the mid to late 1800s to farm and he recognized the value of education above all else and eventually sent all four of his children to University. My Grandfather fought in both world wars and was awarded a certificate of Theology in 1929 from The University of Winnipeg and went on to serve as the oldest serving minister in the Canadian armed forces in World War 2. He was awarded an Honorary Doctor of Divinity in 1959. One of my great uncles was also awarded an Honorary Doctor of Divinity in 1964. My mother also graduated from The University of Winnipeg in 1948 with a Bachelor of Arts and went on to obtain a Social Work Degree from the U of T and UBC.
Our family has always put education and higher education as the most important goal in our development. Not only education for the sake of a job but education to better yourself and to provide you with an opportunity to give back to the community.
My time at The University of Winnipeg was a time that opened my eyes to the possibilities awaiting me in the world of science. Mine was the first class of the four year degree in the sciences and the enthusiasm amongst the students and staff was palpable. I also played on the U of W soccer team which in our last year won the GPAC championship and went to the Canadian championships in Newfoundland. I immersed myself in the University and enjoyed the time at U of W tremendously. This education and more importantly the enthusiasm for learning that I gained from the U of W  provided me with the opportunity to go on and obtain a further degree and then study at a number of places around the world.
 It also gave me the opportunity to move back to Winnipeg for work and to raise family and to participate in the beginnings of the biotech industry in Winnipeg and Canada.I was extremely lucky in that the biotechnology/genetic revolution took off while I was at school and I was able to participate in the rapid expansion of knowledge that occurred and continues to occur in this area. This is an area of tremendous growth and potential, about 30% of our Gross Domestic Product can be related to something involving
biotechnology and this is predicted to expand rapidly over the next two decades. The current and future outcomes of this research will alter the world that we live in.
As with all things these alterations may be both good and bad. There will be decisions to be made. Just to give you some idea of some of the beneficial developments, one of the genes that causes breast cancer has been identified and the life expectancy of  young girls born today has increased to over 100 years. Within the space of a Century, we have progressed from where my Great Grandparents buried two of their children in the front of their homestead to a life expectancy of over 100 years. Unfortunately even in Canada this is not for all of the segments of our society.
As you leave the University of Winnipeg with a degree in education and science, you have been granted one of the most important things you will ever be given. An education which provides you a bedrock of opportunity, an opportunity to continue to learn, an opportunity to educate the people of our community which is one of the most important obligations we have in our society, an opportunity to participate in the many facets of Canada which involve scientific thought and activity. 
Most importantly it will provide you with a better ability to understand the complex world around us and to be able to participate in the process of making educated decisions which will shape our world in the future. The world today is much more complex or at least the decisions are more complex than 50 years ago, decisions about environmental issues, fresh water issues, population issues and you can go on and on. 
You have been privileged to receive an education and the ability to participate in these decisions and the obligation that you have is that you must. I would encourage everyone to take advantage of the opportunities that graduating from U of W provides you and to continue to learn in the future. But remember with the privilege of this education comes the responsibility to use it.