Honorary Address - Sharon Hope Irwin
Spring Convocation 2008
---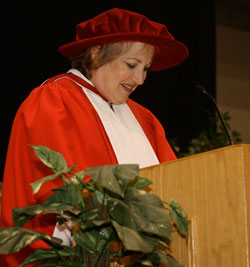 Thank you Chancellor Riley, President Axworthy, Board of Regents, Distinguished Faculty, fellow honorees, graduates, friends and families.
I imagine that I am receiving this honorary degree because 30 years ago I started a child care center in a coal town…or because, when we were faced with our first child with severe special needs, we said "Yes" while other centres said "No," and then we adapted our program to include that child. Or perhaps this award recognizes the past 15 years, when as director of SPECIALINK I took what we had learned and developed there in Glace Bay on the road — demonstrating across Canada that high quality child care must include children with special needs.
I'm sure all this was considered by those who determined to give me this significant award, and for this I am grateful.
But this recognition is not mine alone.
First, it belongs to the thousands of parents across Canada who have raised children with special needs — raised them despite the lack of appropriate supports.
It belongs to the Early Childhood Educators who were determined to include children with special needs in their regular child care programs — staff who, despite very little provincial or federal support, refused to use that lack of supports as an excuse and, instead, devised programs that delivered quality child care for ALL children.
It belongs to the children themselves — children with special needs and those we call typically developing children — children who have played together and have helped us all learn that inclusive child care works, is the right thing to do, and will make a better Canada for us all.
And it belongs, as well, to all of us who have fought for a universal, high quality, accessible, affordable and inclusive child care program for all Canadians, including the president of this university.
As you must know, we Canadians were that close to having a truly universal and inclusive national child care program. The Early Learning and Child Care Agreements, signed by the federal/provincial/territorial governments in 2005 launched this signature plan. When the Conservative government came to power that initiative was immediately cancelled. In its place, the government gives out, like Halloween candy, a monthly gift of $100. A taxable $100. Which means that every child under 6 years old receives, after taxes, from 50 to 70 dollars a month. That amount will buy only a few days of child care, nothing more. And there are no requirements or standards regarding how the money is spent.
But knowing the value of the words "universal child care" — knowing the need and the hunger — the present government has used those same words to describe this monthly handout.
Leaving the children with a friend or grandmaw is not a universal program. A few days a month at a child care center is not universal child care. A program that does not assure quality early education for all children regardless of income or special needs is certainly not universal child care.
But consider this: Many of you — most of you — will soon require, or perhaps already require, good child care. You'll need child care so that you can confidently carry out your daily work, whether you are the sole breadwinner or a single parent or in today's typical home with two adults in the workforce. You will need early childhood education even if you are a stay-at-home parent, recognizing the values in socialization and health and early learning that first rate child care can provide.
Moreover, I guarantee you that there are people in this room who will need child care for their children with special needs.
And if we do not face critical issues now — the elephant in the room that the current administration thinks it can hide under a 100 dollar tablecloth — many of you will face the same dilemmas that parents are facing everyday across this country.
When you go looking for early education for your children, for most of you it simply will not be there. Even here in Manitoba where standards and pay and subsidies are higher than in most provinces, you will face affordability and quality issues, long waiting lists, problems of location and hours of service. And if your child has a special need, the problems will double or triple. Without child care, you may not be able to work at all.
The current federal program called "universal" is a national disaster and a tremendous disappointment, especially for those of us who have lived the issues, and who have fought for a genuinely universal and inclusive system all these years.
I was lucky. I found my cause…as well as my life's work. I don't expect you all to become committed Early Childhood Educators and leave behind the opportunities offered by your B.Eds and your B.Scs — but I do urge you to become champions for universal inclusive child care for Canada. Do it for selfish reasons – your own children deserve it, and your nieces and nephews too, and even if you don't intend to have a family, do it because it is right.
Genuine universal inclusive child care must become one of the pillars of the Canada we want — along with our commitment to democracy, our Charter of Rights and Freedoms, and our traditions of peacekeeping.
As you may know, the University of Winnipeg is the new home for the SpeciaLink Centre. It will flourish here under the direction of Debra Mayer and the inspiration and leadership of President Axworthy.
The University of Winnipeg is the right new home for SpeciaLink. The University has a strong tradition of saying "yes" — through the new Opportunities Fund, through accommodations for adult students with fulltime jobs, for people for whom English is a second language. It has said "yes" to providing a welcoming environment for Aboriginal students, through immigrant students and through support for Hurricane Katrina victims. President Axworthy has an exemplary record of fairness, of saying "yes", from his child care vision during his time as Human Resources Development Minister to his work as
Foreign Minister, getting the United Nations to adopt the landmines treaty, the UN Convention on the Rights of Children and the "Requirement to Protect" commitment.
You each take with you a solid basis on which to build good careers with strong ethical foundations.
And I hope that you, in whatever you undertake in your life, will be blessed with the ability to see the greater possibilities of your work — to discover ways to make your teaching, your research, your industry, your life as open and inclusive as it might be. And that you will have the courage to say "yes."
You have the tools. Plus youth…get out there and change things for the better.
Thank you.