Honorary Address - Joyce Milgaard
Spring Convocation 2007
---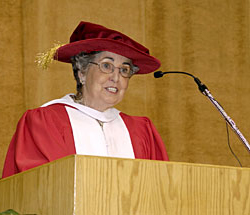 Good Morning: It is a great honor for me to be asked to speak to you this morning and to receive an Honorary Doctor of Law Degree. WOW.
Little did I know how much of the law I would have to learn in order to free my son David, and that I would be able to use this knowledge in my work now with AIDWYC, the Association in Defence of the Wrongly Convicted. Thanks to Hersh Wolch and David Asper, my knight in shining armor. (He doesn't like to be called that) but they taught me well.
Our family's lives now have a greater a sense of order. We even have a new family member. My son David & his wife Cristina have blessed us with a grandson, Robert David and it is great watching him grow. He is now 16 months old and doing all the fun things that babies do. This was a dream that not so long ago we would have felt impossible.
We have been living in Petersfield just north of Winnipeg. The last two summers I have taken off to spend time on our beach and to work in the garden. In June of last year I became a Journal listed Christian Science practitioner. Now my full time job is in healing people spiritually.
During the thirty years it took to get David cleared and compensated, I spent a great deal of time in prayer... I talked to God a lot. I remember once reading in our textbook, "Trials are proofs of God's care and I said to God, "I just wish you wouldn't care so much!" But He did and He does and I learned to trust Him and to see a higher purpose in what we went through. It has given me the ability now to help others and I love my work. I feel very blessed. When I think of our experience with the section 690 application, five words ring in my head. What's happening with the application? We never knew!
Our only indications of our progress came from the calls of enraged witnesses who had just been visited by a justice investigator. They told us they felt the justice department's approach was to discredit instead of sincerely investigating what people were saying.
This attitude of bias could be clearly seen when after the initial application was rejected, the same application, no changes, was then resubmitted and accepted. Why???
Why, because we aroused the power of the people of Canada, as well as many members of Parliament, including Lloyd Axworthy, otherwise it would never have happened. David would still be in prison.
This process cannot be adversarial nor can the Justice Minister be the only one put in the position of weighing credibility. That is a function that must be performed by independent arms length people. This is being done in England, Australia and New Zealand. That is what's needed here. Not the band aid treatment that they have now. We need an independent board.
The process must reflect the fact that the applicant is, most often in jail, without means, and essentially helpless. Our case was the exception. The system has to give the wrongly convicted and imprisoned person a meaningful chance; otherwise the deck is fully stacked against them.
Innocent people are still in prison. Everyone knows it! Since David was released there have been 18 cases overturned with the help of Aidwyc. We are currently reviewing 55 cases across the country. We're stretched way beyond our limit. We shouldn't be forced to do the work of the Government. I know, I for one, would dearly love to just get on with my life but how can I when innocent people are out there calling for help and the government has nothing in place that works!
An independent tribunal would change the whole tone of the debate, as it has in England. Their government and their courts have accepted the fact that wrongful convictions do happen. An independent board is needed in Canada too.
A frightening thought, often overlooked and it is so important to remember. When the system puts an innocent person in prison the real criminal is still on the loose. While our David rotted away in prison, while all the family focused on just getting him out, the real killer continued his spree of rapes. Each became more violent. These are the results that you get when the system fails the wrongly convicted. An independent board could stop this. You could stop this. I'd like to ask each of you to think about what you could do to make this happen. For example, tomorrow morning, pick up your phone and call your member of parliament. Light a fire under him or her. Then each of you talk to 2 good friends and ask them to do the same and ask them to ask 2 of their friends.
Ladies and gentlemen, you people right in this room could make this happen. The innocent are crying out for your help. Please help them. Thank you.