Honorary Address - James Eldridge
Spring Convocation 2007
---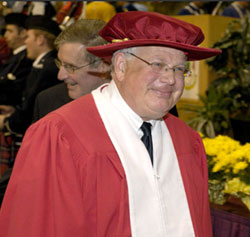 Mr. Chancellor, Mr. President, Honoured Guests and Fellow Honourees, Graduands, Ladies and Gentlemen,Thank you, Professor Allen Mills, for your generous citation. This is a great honour for me.
As I understand it, I was nominated for this award by a number of students, who submitted my name as a representative of the many men and women in the public service, the vast majority of whom work hard throughout their careers, but seldom get recognized for the work they do.
So, I'm accepting this honour on behalf of all my colleagues, and in so doing, I'd like to encourage those of you who haven't yet made career decisions, to consider public service.
It's become almost a cliché, but in the public sector you really can make a positive difference to make life better for a lot of your fellow citizens and you get to work alongside many bright, dedicated, committed colleagues. Besides that, you might be very lucky like me and and get a job which lets you have a close-up view of history as it unfolds, and end up here, with an honourary degree!
But, no matter what career path you choose, I'd like to offer a little bit of free advice.
I'd like to preface it, though, by telling you that this is the third convocation I've attended this weekend. The first was in Montreal on Friday morning, when my son, Michael Eldridge, a University of Winnipeg graduate, got his Law degree from McGill. In so doing, he followed in the footsteps of his sister, Marie-Christine Eldridge, also a University of Winnipeg graduate, who is now a full-fledged Member of the New York Bar. I'm delighted that both of them are here today.
The second convocation was here in this hall this morning, where I watched as my partner's daughter, Tarra Lynn Barley, received both her B.A. and Bachelor of Education degrees. I'm pleased that she is also here today. I'd like to ask all three of these recent U of W grads to stand up for a moment!
All three of these young, U of W alumni speak glowingly -- and without any prompting -- of their time here, of how much their professors helped them and cared about what they were doing. Between them, Marie-Christine and Michael have spent time, and done very well, at Queen's, Western, McGill, and on exchanges at universities in France and Sweden, but they rate THIS university as the best for teaching and caring. Tarra says the same thing -- and she's now a teacher herself!
So -- that brings me to my first piece of advice to the Class of 2007: be very proud to be a graduate of this university! The University of Winnipeg is a great university. It is world class. Its reputation for excellence in teaching is totally well-deserved.
And, those who oversee its governance are distinguished citizens of the world. Your Chancellor is one of the most important business leaders in North America, and he also makes a large contribution to Manitoba and Canada through his participation in a wide range of voluntary public interest activities. He also plays a pretty fine game of golf, I'm told, and recently birdied the storied 18th hole at Augusta, which I suspect hasn't been done by very many university chancellors.
And, your President has given this institution even greater stature than it had before by accepting the position he now holds. He was always an excellent professor, but he became an exceptional political leader too, earning an admirable reputation for his work, over a quarter century, on behalf of Manitoba, of Canada, and of international peace and justice. And that work continues, from this university, every day.
So -- always remember that, with the degrees you have earned at the University of Winnipeg, you are in the major leagues! Congratulations!
My other pieces of advice are also personal, and are based on the fact that life really is short. It's been more than 40 years since, as a U of M Economics student, I used to skip classes occasionally to come here to the legendary Tony's cafeteria with some of my fraternity brothers on Friday afternoons, or to the big dances and concerts they used to have on Friday nights, when there would be 2000 kids dancing to the Hollies, or the Deverons, or Chad Allan, and later the Guess Who. I'm betting Neil Young played here too. The old gym floor would undulate, and it's a wonder the building didn't collapse! Anyway, those days seem like just yesterday to me. My career went by like the blink of an eye, and yours will too.
Keep on learning. Work hard, but make sure you have balance in your life, especially for your family. Nurture your friendships. Respect and be courteous to others. Savour the good times. In the bad times, as my mother used to say, count your blessings. Have fun. Take some risks. Don't be afraid to challenge authority. And, when you can, give back to your community and your alma mater. Obviously, I hope many of you will stay here in Manitoba too. Finally, and most important of all, follow your dreams!
Again, congratulations to all of you, and to your friends and loved ones who are here to share this day with you. It's a proud day for all of you, and I'm honoured to have been a small part of it. Thank you very much.