"The Concept of Time": Award-winning play in development grapples with Alzheimer's
Fri. Mar. 17, 2023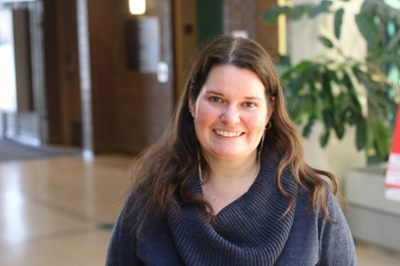 UWinnipeg's Hope McIntyre received two competitive grants, both of which are individual artist grants, for a play she has been developing. The play, "The Concept of Time," is about life with Alzheimer's.

Photo supplied

Hope McIntyre is Assistant Professor in the Department of Theatre and Film. Her background in theatre is impressive by any standard – in Winnipeg or elsewhere. Prior to accepting her position at the University of Winnipeg in 2019, Prof. McIntyre founded the much-celebrated and highly successful independent theatre company Sarasvàti Productions, where she served as Artistic Director for 22 years. These days the award-winning playwright, director, and producer balances these creative pursuits with the other demands of her position. Recently, McIntyre directed the Acting III: Honours class in the "The Secret in the Wings" by American writer Mary Zimmerman.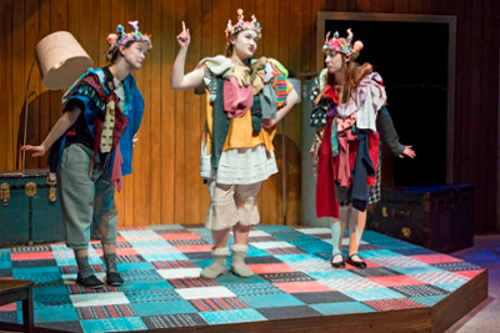 The Secret in the Wings by Mary Zimmerman
Director: Hope McIntyre
Costume Design: Amelia Carlson
Scenic Design: Shy Pattie
Lighting Design: Larry Isacoff
Photos: Amber Leblanc-Peitsch
Photo supplied
This winter, McIntyre received two competitive grants, both of which are individual artist grants, for a play she has been developing. The play, The Concept of Time, is about life with Alzheimer's, a neurodegenerative disease. We met recently to talk about the play and about her work as a playwright. Our conversation, which I have summarized here, focused on the process of writing a play, her interest in using theatre as a means of prompting social change, and her work with UWinnipeg THFM alumni – her former students – as professionals in their own right.
I started out by asking about the grants McIntyre received. McIntyre explains that it was actually a series of grants, the first of which was a Discretionary grant from the University of Winnipeg which she used to do the initial work. Based on that, she started writing the play by working through "writing challenges" – otherwise, she says, writing just doesn't get prioritized. Once The Concept of Time was fleshed out as a full-length play, McIntyre applied for support through the Manitoba Association of Playwrights to host a one-day workshop.
Then in the winter of this year, McIntyre was notified that she had received both of the individual artist grants, a CREATE grant from the Manitoba Arts Council and an Individual Artist Grant from the Winnipeg Arts Council. Both are peer-judged, she says, which means it is artists assessing the work of other artists. Knowing that the work is deemed worthy by peers is extremely rewarding.
McIntyre explains that writing a play is very much a process. She will use the funding from the grants to continue this process, by putting on a week-long workshop with paid actors and a director. McIntyre states that "You don't know if it actually works as a play until you get to hear it read out loud and test it." McIntyre likens developing a new play without hearing it read to composing a symphony without hearing the orchestra play it. It is just that critical. And she adds that this makes financial support so important to playwrights.
McIntyre is interested in exploring how we can use the Arts to understand the world around us. The Concept of Time explores the lives of those affected by Alzheimer's and their families. McIntyre shares that a member of her family had Alzheimer's which spurred her to look at this in particular. As Alzheimer's is prevalent, she feels it is important for communities to understand what it is like for those living with the disease and for their families. Theatre offers a unique way to educate and raise awareness, which is a positive thing, she says.
"The challenge," McIntyre continues, in tackling something when you have lived experience, as she does with Alzheimer's, "is to make sure your work is relevant to more than just your experience and that it resonates with other families." With the grants she has received, McIntyre has consultancy fees she can use to involve people from the Alzheimer Society of Manitoba, who will attend workshops and provide her with feedback about their experience of the play.
As the title suggests, the play deals with the concept of time as it is so directly affected by Alzheimer's disease. McIntyre explains that some people with Alzheimer's lose the linear concept of time and have difficulty keeping track of present and past. Interestingly, theatre allows for that blurring of time. We can move from one moment to another on stage or merge timeframes.
Underlyling The Concept of Time – and so much of McIntyre's work – is a determination to be a positive voice for societal change. McIntyre often engages in collaboration with community, particularly with those who are underrepresented. Unfortunately, she says, there are people who feel that theatre is not for them, but she envisions theatre as a vehicle for these people to tell their stories. In grappling with Alzheimer's, The Concept of Time will do just that, bringing to life a character experiencing dementia and highlighting the challenges they and their families face. McIntyre says, "There is something so profound when you go through something in person and experience it in real time with present living beings." The play also deals with COVID and the devastating impact it had on those in care homes. For those who were not personally affected by this situation, they are confronted with the reality of it on the stage. In a way, the play is an opportunity to bring "the news headlines of the day" to life.
Just as she brings the real world to the stage, McIntyre also brings her lived experience of the theatre industry to the classroom. She knows that once you have developed a play, you need to "shop it around" or self-produce it – something she has done many times over the years. When she teaches courses in playwriting and the business of theatre, she spends time working with students on that aspect of the business: how do you get your work out there, how do you get it produced or produce it yourself, how do you write grant applications? As McIntyre has been teaching in THFM for 18 years, she finds that her productions often involve past students that have gone on to become professional actors. "Hiring and working with students you have taught is a wonderful thing," she says.
Dr. Glenn Moulaison, Dean of Arts, states "Prof. McIntyre's work shows how the creative is rooted in the personal, drawing upon the known and lived, to then engage others in the imaginative experience. It truly is remarkable."
Lisa Michelle McLean
Office Manager and Program Officer
Faculty of Arts: Deans' Office