Arts retirees for 2022: Dr. Catherine Hunter
Fri. Aug. 26, 2022
This year saw the retirement of three of our Faculty of Arts professors. Knowing they'll be greatly missed this fall, we asked some of their colleagues to share their thoughts.
Here we highlight Dr. Catherine Hunter's retirement from English.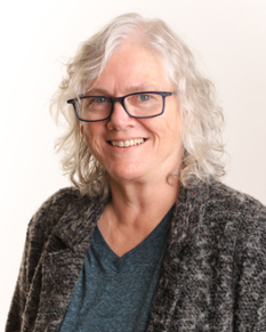 Dr. Doris Wolf shares that "There are special people who leave a positive and lasting legacy on a workplace, and Catherine is one of them."

Photo credit: Leif Norman (2018)
Dr. Catherine Hunter retired as Professor and former Chair of the Department of English as of June 30, 2022. And while it is difficult to do justice to a much respected colleague in a few lines, here Dr. Hunter's colleagues do just that, noting the lasting impact of her teaching, administrative responsibilities, and creative work.
Dr. Doris Wolf, Associate Professor and Chair of English: "There are special people who leave a positive and lasting legacy on a workplace, and Catherine is one of them. Her collegiality, good humour, wit, and kindness will be deeply missed by her colleagues in the department and university." 
Dr. Kathleen Venema, Associate Professor: "Catherine was a role model for me in every possible way: a legendarily inspiring teacher, a dedicated and deeply knowledgeable administrator, and a gloriously gifted writer, nowhere more evident than in her 2019 poetry collection, St. Boniface Elegies, a finalist for the Governor General's Literary Award for Poetry." 
Dr. Jenny Heijun Wills, Professor and Chancellor's Research Chair: "Not only was Catherine a fierce advocate for the Creative Writing Stream in the Department of English, but she impacted each and every student who went through that program. She generously worked with students both within and beyond the classroom. Her impact on the writing program, Juice, the writer-in-residence program, and more was immense." 
Dr. Paul DePasquale, Professor: "Catherine has hugely impacted the creative writing program in our department, including founding and leading the undergraduate creative writing journal, Juice. For over 20+ years, this journal has hired, trained, and mentored undergraduate students. It's editors, assistant editors, interns, and volunteers have gone on to prestigious programs, publications, awards, and jobs in universities and the publishing industry." 
Dr. Glenn Moulaison, Dean of Arts: "Dr. Hunter's long, remarkable career at the University of Winnipeg has marked the lives of colleagues and students here and across Canada. I know that her mentorship, leadership, and scholarship will continue as she writes the next chapter."