Arts office welcomes new staff member
Wed. May. 11, 2022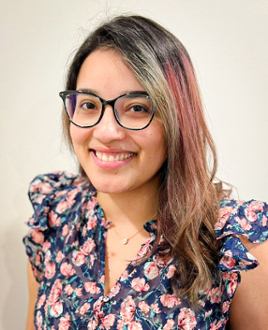 Suellen Ribeiro is already a "valuable member of the Arts team," says Dr. Glenn Moulaison, Dean of Arts. (Photo supplied)
This winter, we were pleased to welcome Suellen Ribeiro as Office Assistant in the Arts office, where she is providing administrative support to the Deans and Arts Council, as well as managing the personnel files and the Right of First Refusal (RoFR) process.

Dr. Glenn Moulaison, Dean of Arts, enthuses that, "In the short time that she's been here, Ms. Ribeiro has proven herself to be a valuable member of the Arts team." He adds, "I'm already wondering how we managed without her."
Ms. Ribeiro holds a three-year Bachelor of Science degree in Food Technology from the Federal University of Technology - Parana (UTFPR) in Parana, Brazil. She was born and raised in Brazil, describes herself as a proud Afro and Indigenous descendent, and speaks Portuguese, Spanish, and English.
Ms. Ribeiro has experience working in other areas on campus, including Campus Living, Student Recruitment, ELP, and PACE. She takes particular interest in optimizing processes, something she attributes to her degree in food science and her experience in the food industry. As well, she is highly skilled in the use of technology.
Ms. Ribeiro shares the following about her hobbies, interests, and future projects:
My favourite hobby for sure is baking - bringing joy and love to people's lives through food definitely makes my life happier. I also love decorative planning, spending time with my dog and my nieces/nephews. I have a huge admiration for nature and would love to learn more about growing healthy and beautiful plants. I also plan on going back to school soon - at the UW, of course - and maybe this time studying something different from my previous education: International Development Studies.