New book for Chair in GCS
Fri. Jun. 25, 2021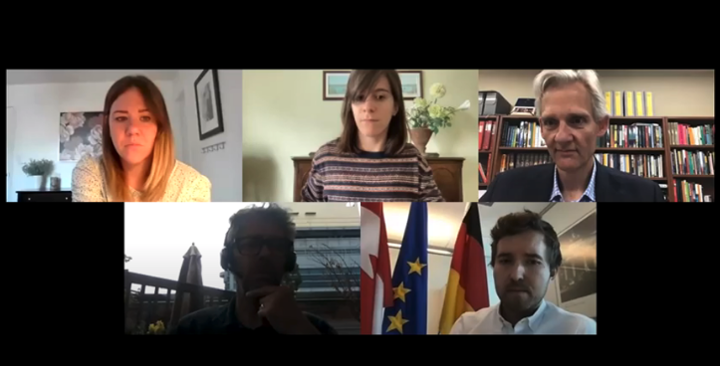 Photo from book launch for "Being German Canadian: History, Memory, Generations"
Clockwise from top left: Ms. Karen Brglez, Ms. Nicole Haldoupis, Dr. Alexander Freund, Vice Consul Frederic Nicolaus Erdt, Dr. Robert Teigrob
Photo courtesy of University of Manitoba Press


On May 26, Nicole Haldoupis of the University of Manitoba Press hosted a virtual book launch for a new book, Being German Canadian: History, Memory, Generations, edited by Alexander Freund, Professor of History and Chair in German-Canadian Studies at the University of Winnipeg.
Ms. Haldoupis introduced Vice Consul Frederic Nicolaus Erdt from the Toronto German Consulate, who opened the event. The book, Vice Consul Erdt stated, is "insightful and a fascinating read." It is a "valuable" contribution, he said, to the literature that considers "what it means to be a German Canadian."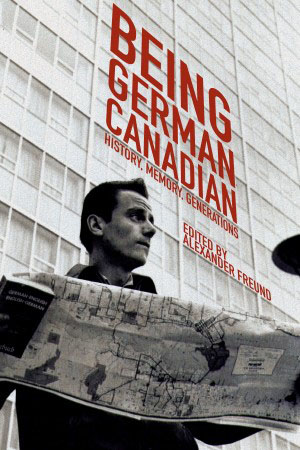 Being German Canadian: History, Memory, Generations
(University of Manitoba Press 2021)

Next Haldoupis introduced Dr. Freund and the book. Being German Canadian: History, Memory, Generations, Freund explained, is a collection of essays and the third in a series, the first two being: (i) A Chorus of Different Voices: German Canadian Identities, edited by Angelika E. Sauer and Mattias Zimmer (Peter Lang, 1998), and (ii) Beyond the Nation? Immigrants Lives in Transnational Cultures, edited by Alexander Freund (University of Toronto Press, 2012). Haldoupis noted that Freund also edited, with Benjamin Bryce, Entangling Migration History: Borderlands and Transnationalism in the United States and Canada (University Press of Florida, 2015) and authored Oral History and Ethnic History (Canadian Historical Association, 2015).
Dr. Freund spoke about the book generally, and about his chapter in it, before introducing two of the book's other contributors. The book, Freund said, explores how the concepts of history, memory, and generation have shaped – and continue to shape – the identity of German Canadians. Each of the essays explores these concepts from a different perspective.
In the Introduction to the book, Freund notes that the book's approach is a departure from traditional studies of Canadian immigration history in two ways. First, the focus is on the migrants' lives and their memories, rather than being policy-focused. Second, instead of looking exclusively on the experience of first-generation migrants, it is also concerned with that of subsequent generations and with how memory is "negotiated" from one generation to the next.
Freund explains that migrants inevitably bring with them "baggage" from their countries of origin. He states that, "In the twentieth century, it was particularly true of several generations of German migrants, who carried heavy baggage of collective memories of two world wars, the Holocaust, two dictatorships, and two revolutions" (p. 3). Critical to the book, he says, are the related questions: How has the violence of the twentieth century shaped the lives of German Canadians? How are German Canadians to deal with that troubling past and what are their responsibilities related to it? And, further, what can we learn from this past that can inform Canadians as we confront the violence of our own past related to colonialization?
Freund then introduced Robert Teigrob, Professor in the Department of History at Ryerson University, and Karen Brglez (MA, Universities of Winnipeg and Manitoba), who, he says, will begin her PhD in the fall at the University of Manitoba. Here I briefly offer summaries of each their individual contributions to the book.
In A Flying Piano and Then – Silence: German-Canadian Memories of the Great War, Freund analyzes a collection of interviews that were done in the early seventies with German-speaking pioneers, all of whom had come to Canada prior to 1914. The recordings, he says, were undertaken as an oral history project which was done as a study of German Canadian pioneers and their families specifically in relation to the Great War. However, Freund found that very little was recorded in the way of stories and memories about the war itself. Instead Freund makes a study of the silences themselves. These, he states, "may stem not simply from a lack of experiences or memories, or from a dearth of documents, but from the absence of an intergenerational conversation about war" (p. 57). Freund writes that other contributors to the volume note similar use of silence, which, he suggests, underscores the troubling nature of the experience of war and of the memories associated with it.
In One Führer, Two Kings: A Canadian Prime Minister in Nazi Germany and the Dilemma of Responsibility, Robert Teigrob looks at William Lyon Mackenzie King, Canada's longest serving prime minister's, visit to Nazi Germany in June 1937. King was the only Western head of state to visit Germany at this time.
Dr. Teigrob considers Canada's reaction to the visit, which he says was largely ignored then, and when addressed it was purportedly said to reflect King's own views, which were said not to be representative of all Canadians. Using a detailed history of what was known at the time, Teigrob demonstrates that King was aware that the Nazis were a totalitarian regime with barbaric policies. Further, he argues that the nation's response to totalitarianism was "moderated" owing to King's own antisemitic beliefs and the wide-spread existence of these in Canada.
Ms. Karen Brglez offers a revealing look at the life of Gottlieb Leibbrandt, who was a post war immigrant to Canada in 1952. Leibbrandt, an ethnic German from Ukraine, held a PhD from the University of Vienna (1934). In Canada, Leibbrandt became a businessman and an academic who focused his study on the positive contributions of German Canadians. As Brglez shows, once in Canada, Leibbrandt distanced himself from his work as Nazi propagandist in the lead-up to, and during, the Second World War. Leibbrandt's calculated silence about this part of his life, says Brglez, enabled him to fit into Canadian society. His personal views however never changed, says Brglez, and he never confronted his Nazi past.
Other essays in the collection explore German-Jewish refugees' negotiations of a "Yekke" identity in Canada and Israel (Dr. Patrick Farges, University of Paris), generational discord in the Lutheran Church over the use of German in services (Elliot Worsfold, Western University), identity construction among German immigrants of the 1990s (Anke Patzelt, University of Ottawa), intergenerational family talk about the Nazi period (Sara Frankenberger, MA, SFU), and Canadians' memorialization of German ancestors as "pioneers" (Christine Ensslen, York University). In his Afterword, Dr. Roger Frie (SFU) considers the challenges of history for German Canadians and their obligation to remember.
Dean of Arts, Glenn Moulaison states that, "The work of Dr. Freund and his colleagues shows us that the past is never over or even that it is something we (should) get over. History and historians like Dr. Freund and his colleagues are essential to our need to learn from the past."