"But still you thrive": Black students reflect on Black History Month in 2021
Mon. Mar. 1, 2021
In honour of Black History Month 2021, we are speaking with two Black students who study in UWinnipeg's Faculty of Arts, Keesha Harewood and Mary Oluchi Okon, to get their perspectives on it.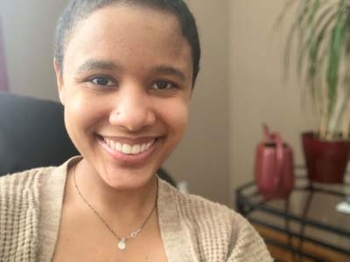 photo supplied


Keesha Harewood is in her final year of her 4-year BA in English (creative writing stream) and she is a features reporter for the Uniter. She was speaker at 2019 BIPoC Student Symposium, which was co-presented by the Critical Race Network and BlackSpaceWPG and in the UWinnipeg Pride Speaker Series.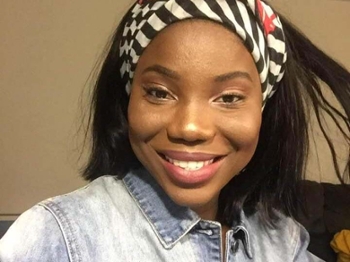 photo supplied


Mary Oluchi Okon is in the second year of her degree. She is doing a major in rhetoric and communications and a minor in English. Oluchi Okon came to Canada from Nigeria to pursue her degree.






We met via Zoom on Tuesday, February 23, 2021. Here are some notes from that conversation.


What does Black History Month mean to you?
Keesha Harewood says she feels that Black History Month should mean something different to each person depending on their background, race, and experience. For her, she says, it's "an opportunity to get closer with the rich, beautiful, productive, and dynamic history of Black people." For others, she says, Black History Month comes "with responsibility and duty." As a mixed race person herself, she says, that includes people in her family as well. But always, she says, it's an important "celebration and acknowledgement."
Mary Oluchi Okon says she see Black History Month as "a time for people of African descent to celebrate the story, history, and roots of where they're from." For her, it's a celebration of freedom and connection to others and a time when there's a real sense of community. For some, it's a time to "learn about others and what life is like being black."
How do you see your creative work/studies in the context of Black history month?
Harewood enthuses that, "For my job, it's all I want to write about!" She explains that as a features reporter for the Uniter, she often writes reviews of art and movies made by Black people for the Uniter's "Critipeg" column. But this is even more the case during Black History Month, she says. (See the link to Harewood's February 2021 "Critipeg" column at the end.) "Race is always on my mind especially with respect to creative work." Diversity is something Harewood wants to see in stories, particularly when it's "well-represented."
Oluchi Okon, a poet herself, is taking a course in African literature this year. Her class has been introduced to Black poets in a series of Zoom readings. During a reading with poet Titilope Sonuga, she was able to connect with Sonuga one-on-one, which "was inspirational and made me feel at home." For her, Black History Month means feeling like she "belongs." It's a time, she says, when she writes for the people around her, knowing her words may even change someone.

Can you name a Black historical/influential person you admire and tell us why?
Harewood names the late Toni Morrison, a Black female author who wrote books such as The Bluest Eye (Holt McDougal, 1970), as a particular inspiration. Keesha studied Morrison's work in a course last spring and says that it is "radical" and "stunning."
Oluchi Okon states that Chimamanda Ngozi Adichie, a Black female writer, is someone she admires. Adichie, has written novels, such as Americanah (Alfred A. Knopf, 2013), and like Mary, Adichie was born and raised in Nigeria. Oluchi Okon says that Adichie's work was important to her a girl child. From it, she says, she learned about the importance of culture and why it's necessary for her to speak up for change.
Who in your own life most inspires you?
Harewood says that she's inspired by Canadian journalist and activist Desmond Cole. Cole, she says, is author of The Skin We're In: A Year of Black Resistance and Power (Penguin Random House, 2020) and "he chronicles racism." Keesha made a personal connection with Cole at a book signing. She shared with him that she was going through a difficult time and she remembers his words to her: "We're all on a healing journey."
Oluchi Okon says it is her mother who is inspiring to her personally. Her mother, she says, "shared the truth with her about being a woman growing up in Nigeria." Mary adds that her mother was the one who "encouraged her to pursue her dream of studying in Canada," saying to others: "She has something to do, so let her go." Mary adds that musician/singer H.E.R. is also inspiring to her, as she writes poetry and talks about racism.
February 2020 seems like a long time ago. The police killings of George Floyd and Breonna Taylor and others have sparked outrage worldwide. Does Black History Month feel different to you this year?
Harewood says that 2020 was a time when there was "more awareness coming to light" and that "the issues were very much out in the open" and that this was positive. But at the same time, she says, it's also very difficult. People here would react to what's going on in the USA and they would say, "At least it's not bad here." But she insists, "Yes it is!" Maybe people who aren't personally affected by it don't see it, she says, but "it's on my mind all the time. And when you can't get away from it, it's so draining."
But to Harewood, what's disappointing about Black History Month this year isn't that it's different, but how much it's just the same. After everything that happened last year, you'd expect it to be different, she says. But this year is "almost like any other year." For her, it's important to keep getting the message out there in order to effect change.
Oluchi Okon agrees with Keesha and builds on what she's said. '[The increased awareness] shouldn't just be another trend" she says emphatically. "This is about people's lives and they matter." She says she's disappointed that, "It seems all too easy to erase what happened last year." Oluchi Okon makes the point that, "[The erasure of Black history] is what's been happening for centuries."

How can universities like the University of Winnipeg, for example, best support Black students?

Harewood starts by saying that to address the question in a really meaningful way, you'd need to look department to department. But more generally, she says, to provide support to Black students, the University should consider "the financial struggles, emotional and psychological issues" that disproportionately affect Black students.
Harewood talked about how alienating it can be to be a Black student in a predominantly white class. She would love to see "profs stick up for Black students" – and ideally for profs "to intervene and challenge" what's being said – "even when white students are triggered in discussions of racial issues." Harewood explains that it's not just about including BIPoC history and culture in the curriculum; it's about being "thoughtful and understanding about it."
Oluchi Okon agrees that it would be helpful if "profs understood the economic and emotional challenges" experienced by Black students. Like Harewood, Oluchi Okon feels isolated in her classes too. In most classes, she's the only Black person, she says and she finds it "uncomfortable" when there's talk about issues involving race.
Harewood offers an example to illustrate what she and Mary are saying. "Maybe in a class you're reading one of the classics that has racist overtones, such as The Great Gatsby." Other students in the class might not see any problem with it. "But for you, as a Black student, you might find it extremely racist. So for you there's that extra emotional layer," she says and pauses. "But still you thrive in spite of that," she adds.
Oluchi Okon wishes there were "more opportunities for Black students to be seen." The diversity at UWinnipeg is something that she loves, but she wishes there was more emphasis on creating more sense of community.
Harewood agrees. She'll graduate in June with a 4-year degree. Already she knows she'll have "fond" memories of UWinnipeg, even though she's had some bad experiences. She acknowledges that here she's come to know "many thoughtful people who want the same changes" as she does.


I would like to thank Dr. Paul Lawrie, Associate Dean of Arts and Associate Professor of History, for introducing me to Keesha Harewood and Mary Oluchi Okon and for suggesting this feature in recognition of Black History Month.
Thank you especially to Keesha Harewood and Mary Oluchi Okon for sharing such deeply personal thoughts and experiences with me.
See also:
"Critipeg: Soul" – The Uniter, February 11, 2021

Lisa McLean
Faculty of Arts