Dr. Abigail Klassen's got high hopes - Part 2
Mon. Feb. 22, 2021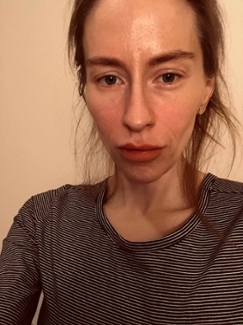 Dr. Abigail Klassen was awarded a prestigous research fellowship which will see them undertake research at the University of Salzburg in Austria starting in June 2021.
(photo supplied)

Dr. Abigail Klassen has high hopes for 2021. Last year, Klassen, a faculty member teaching this term in the Department of Philosophy, was awarded the Ernst Mach Worldwide Award, a research fellowship which provides for exceptional young researchers to study in Austria. Due to the COVID-19 pandemic, Dr. Klassen wasn't to travel then, but will now travel to Austria to undertake their work at the University of Salzburg in June 2021.
Dr. Peter Ives is Professor of Political Science and Acting Chair of the Department of Philosophy. He states that "As is often the case with Department Chairs, I was well aware of Dr. Klassen's innovative and inspiring teaching and impressed that with all the energy they dedicate to their courses, they also pursued an important and rigorous research agenda." Dr. Ives adds that, "Receiving the Ernst Mach Worldwide Award to pursue this research in Austria is a fabulous and well-deserved achievement. I look forward to what I am sure will be an incredibly productive time for Dr. Klassen."
In Part 1 of our two-part feature on Dr. Klassen's fellowship, Dr. Klassen spoke about their journey from their graduation from the University of Winnipeg with their BA (Honours) in 2008 through their MA, PhD and early years teaching. Here, prior to undertaking their prestigious fellowship in Austria, Dr. Klassen outlines their research for us.


Dr. Abigail Klassen – Research
In June 2021, I will take up an Ernst Mach Worldwide Award at the University of Salzburg, Austria. I will be fortunate enough to fully devote my attention to my current and main area of research – that is, on feminist or emancipatory genealogies and readings of asexuality. Roughly, the term 'asexual' refers to persons who do not experience sexual arousal or sexual desire, or who, despite experiencing sexual arousal, desire, or romantic feelings, choose not to engage in sexual activity. Controversy exists surrounding who counts as asexual, as well as which acts and behaviours (or which non-acts and non-behaviours) and, in turn, which causes or motivations for behaviour do or should qualify one as falling under the extension of "asexual." In much of the West particularly, the trend of sex positivity and the language of self-identification are pervasive in both academia and the lived world. While interest, both expert and otherwise, has increased with respect to non-heterosexuality, despite some exceptions, asexuality is largely overlooked. Asexuality remains a relatively unknown, and perhaps worse, a largely misunderstood phenomenon and way of being a person. Most radically, asexual persons can be wrongly associated with the recent uprising of "involuntary celibates" or "incels" - persons desiring, but unable to secure sexual or romantic partners. "Inceldom" is often characterized by misogyny, resentment, a sense of entitlement to sex, and the endorsement of violence against people who are sexually active. Understanding asexuality is of social, personal, and moral importance: constraints and enablements are often placed on individuals who are, or who are taken to be, asexual. When there exists a lack of understanding of others who identify as asexual, self-understanding on the part of asexual people and attempts to understand the asexual other, too, can be difficult or even painful.
I understand the research I'll undertake as one attempt at confronting difficulties involved in promoting meaningful conversation between academics of different disciplines and between academics and non-academics as well. I believe conversation between social scientists, scientists, philosophers, and the rest is essential in the formulation of well-rounded theories and well-rounded students, citizens, and persons in general.