"A study of 'antinomian bodies' and spatial justice"
Thu. Oct. 1, 2020
The Criminal Justice Department invites students and members of the public from Winnipeg and beyond to join us in learning about new justice studies research. All events will be held online via Zoom.
Joshua Shaw of Osgood Hall Law School, York University will present A study of "antinomian bodies" and spatial justice on Wednesday, October 7, 2020 (12:30 to 1:30).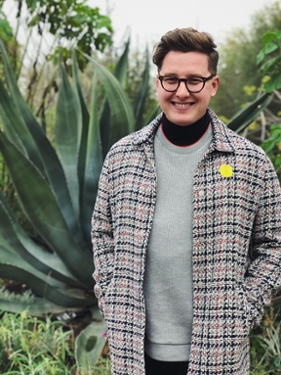 Joshua Shaw of Osgood Hall Law School will be the Criminal Justice Department's first presenter in their Fall 2020 Speaker Series. (photo supplied)


Abstract
"More-than-human" (Whatmore 2002; Alaimo 2010) forms of legal inquiry tend to—in focussing on matters of law and environment (see e.g., Grear 2017; Philippopoulos-Mihalopoulos 2015)—elide the place of the body, bodies or bodily matter constitutive, in part, of the human. The human body—a complex of matter and representation that is desiring, desired, repulsing, repulsed, consecrating, consecrated, etc.—seems to disappear in the effort to reach beyond that bounded by skin. To assist me in thinking through how the body might be understood within more-than-human law and theory, I have designed three qualitative, empirical research projects for my doctoral dissertation (currently entitled, Secreting Jurisdiction: The Body in "More-than-Human" Law and Theory) that should help me reflect on, revise and generate theoretical observations. Each research project explores the relation of bodily matter to the production of jurisdiction, attending to key themes (e.g., technologies, form and responsibility) that can establish a foundation for future work on the place of the body in jurisprudence and sociolegal theory. One of the research projects is already published in Law, Culture and the Humanities as a peer-reviewed article (Shaw 2020).This presentation will describe these projects as they have progressed, covering substantive themes or observations so far found and/or published on, the process (warts and all!) of designing the dissertation and what I anticipate is to come.
Bio

Joshua Shaw (he/him) is a PhD student at Osgoode Hall Law School, York University, in Toronto, Canada. Joshua's doctoral research is supported by the Joseph-Armand Bombardier CGS Doctoral Scholarship 2019-2022. Joshua is appointed as a Visiting Junior Fellow at the Centre for Criminology and Sociolegal Studies at the University of Toronto where he is currently conducting research—separately from his dissertation—with fellow graduate students. He is also a lawyer, having been called to the Bar of Ontario. Prior to studying at Osgoode, Joshua completed his BSc (Hons) and JD at University of Manitoba, Master of Laws at Dalhousie University and articled and worked at the Office of the Information and Privacy Commissioner of Ontario.
For more information and to register, please go to the University of Winnipeg Department of Criminal Justice Speaker Series Tickets, Eventbrite. There no cost to attend.