Featured Researcher: Dr. Tanya Narozhna
Mon. Apr. 13, 2020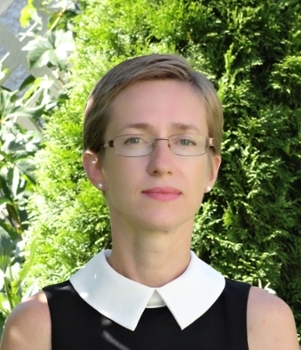 Dr. Tanya Narozhna's award-winning research is in the areas of critical security studies, gender, and terrorism.

Dr. Tanya Narozhna, Associate Professor of Global Politics, has studied global security issues over the last fifteen years. Born and raised in Ukraine, Dr. Narozhna received undergraduate and MA degrees from Lviv National University and her PhD in International Relations from the University of Alberta before joining the faculty at the University of Winnipeg in 2005. Her key research areas include critical security studies, gender, and terrorism.
Dr. Narozhna is the co-author (with W. Andy Knight) of Female Suicide Bombings: A Critical Gender Approach. Their book received the Faculty of Arts Achievement in Scholarly or Creative Activity Award (2017) and the Outstanding Scholarship Prize of the Women's and Gender Studies et Recherches Féministes Association (2018). According to Dr. Allyson Jule, President of WGSRF, Drs. Narozhna and Knight 'tackle their difficult subject with courage, compassion and the deepest intellectual rigour, and have produced a profoundly important piece of critical scholarship that has implications not only for the political reality of the everyday, but also for our capacity to critically challenge and reflect on out own deeply ingrained modes and methods of analysis.'
According to Dr. Glenn Moulaison, Dean of Arts, "Dr. Narozhna's career path reminds us that award-winning scholarship and inspired teaching originate in places from which all of us hope to get motivation – curiosity and passion." Here, Dr. Narozhna's shares with us about her important influences, about the journey that curiosity and passion have taken her on, and about how she works to inspire these in her students.
I come from the family of two generations of educators before me. My parents and grandparents have been genuinely passionate about teaching and always encouraged inquisitiveness, reading, and problem-solving. I was brought up with the knowledge that asking questions can lead to the most unexpected discoveries (I also learned that too much curiosity and unsupervised experiential learning can get you into trouble. I suspect ignorance about research methods, rather than curiosity per se, is to be blamed for it). Above all, I've seen the impact my parents and grandparents have had on the lives of others when their former students, who have long gone into the world and were pursuing brilliant careers, would pay them an occasional visit. So when the time came to decide on my own career, it was an easy choice.
I consider myself truly fortunate in life to be able to do what I love most, i.e., ask questions, especially about the things that appear obvious and natural, think, read, discuss them with others, and teach. My book with W. Andy Knight started with a few simple questions: Why is it that the media (and it turned out later academia as well) is so fixated on women, but not necessarily men, who blow themselves up?; and How is it that we think we know so much about their motivations and the meaning of their final acts when, in fact, credible empirical information is almost entirely unavailable? We realized that the process through which female suicide bombings come to connote particular meanings is inherently political, gendered, and gendering. So it became inevitable that we should ask about the ethical and political ramifications of such meanings.
These questions led to the SSHRC-funded project 'Female Suicide Bombers: Transcending Occidentalism', numerous presentations at the international conferences, including annual conventions of the International Studies Association, Millennium Series conference in Potsdam, and Canadian Political Science Association conferences, a couple of chapters in edited volumes and, ultimately, the book.
These days I continue my journey towards discovering the unexpected. My curiosity about the role of the body, and not just mind and language, in constructing meanings prompted me to elaborate a phenomenological perspective on the everyday aspects of war which have long been under-appreciated  in the discipline of International Relations. My interest in the relationship between identity and security inspired another research project which examines the shift in Russian foreign policy - from cooperation with the West in the early 1990s to antagonistic rivalry and conflict over the last decade - through the lens of ontological security, or security of identity. Last but not least, building on my previous work on women and gender in political violence, I explore complex relations between women and terrorism across South East Asia, as well as women, gender and nationalism in Ukraine.
I strive to bring my passion for intellectual exploration and research expertise into the classroom. More than anything, I wish to inspire and motivate my students to foster their own curiosity and critical thinking. I have deep respect and appreciation for intellectual diversity in the classroom and beyond. My classes are challenging but fair as I encourage a variety of perspectives and independent thinking. There is nothing more rewarding to me as a teacher than to see my students going out of their comfort zone and demonstrating intellectual confidence and independence. 
See also: