RHET event: "Decolonizing Psychoanalysis?"
Thu. Feb. 20, 2020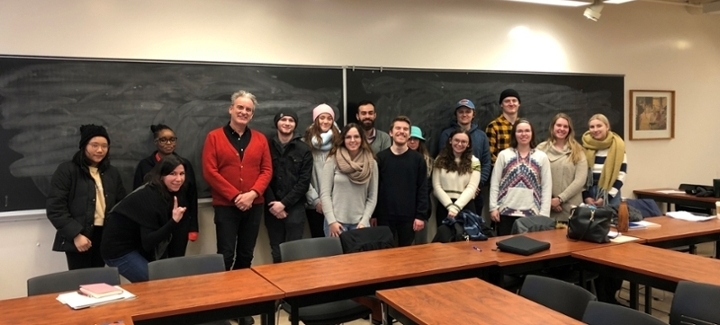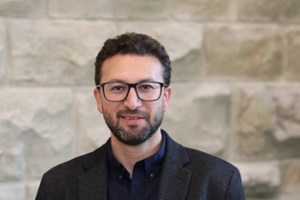 Header: Dr. Clint Burnham is pictured with students in Dr. Matthew Flisfeder's class RHET-3151 "Critical Studies of Discourse and Ideology."
Sponsored by the Department of Rhetoric, Writing and Communications and the Research Office, Dr. Matthew Flisfeder (see left photo) organized and convened a two-hour DIALOGUES session on February 12 on the topic of "Decolonizing Psychoanalysis?" Dr. Flisfeder received a Research Workshop and Conference Grant from the University of Winnipeg to support this project.
The event featured two visiting guest speakers, Dr Clint Burnham (Professor and Chair of the Graduate Program in the Department of English at Simon Fraser University) and Dr. Warren Cariou (Director of the Centre for Creative Writing and Oral Culture, and Professor of English at the University of Manitoba).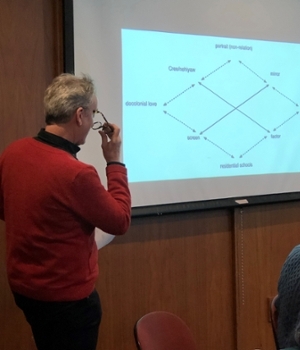 Dr. Clint Burnham is renowned for a dossier of publication in poetry, media, and psychoanalytical theory.

Dr. Burnham spoke first, presenting his talk, "This is the One I Love: The Cree Mirror Story and the Question of Decolonizing Psychoanalysis," exploring how Indigenous stories and literatures can be used as a lens to expand our understanding and re-thinking of Eurocentric psychoanalytic concepts. He was careful to note that the English language itself has been an instrument of colonial imposition to advance the colonial project, used to construct treaties favouring settler claims to land and resources. He asked us to consider how Indigenous story-telling can provide a strategy for rethinking psychoanalytical concepts and for understanding the incursions of colonial technology; as well as Indigenous strategies of resistance to such tools and practices.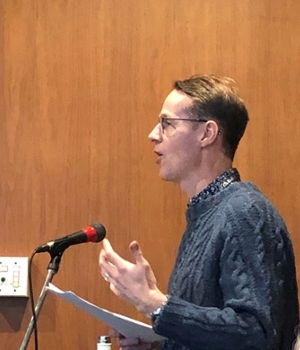 Dr. Cariou has published works of fiction, criticism and memoir about Indigenous cultures and environmental issues in Canada.
Dr. Cariou began his presentation by noting that such an approach is innovative and promising. Yet he preferred a more text-based approach, arguing that Indigenous stories need to be taken in their full context in order to understand their investment in alternate symbol and meaning systems.
Both speakers used a Cree mirror story to illustrate their views. Told by many Indigenous story tellers, the basic plotline usually follows these lines: a Hudson Bay factor, or manager, gives a trapper a mirror in exchange for furs, noting that the mirror has extraordinary powers. The trapper is captivated when he sees his image in the mirror and spends many hours gazing into it. His wife wonders what could possibly be attracting so much of his attention and finds the mirror when he leaves it behind. When she looks in the mirror, she makes a dismissive comment, questioning why he has been so rapt by the face of an ugly old woman. Both speakers commented on the humour in the story, as well as how it embodies attitudes to gender that are out of step with current standards. Both speakers "reflected" upon the mirror story and its usefulness for thinking the differences between Indigenous and Eurocentric conceptions of selfhood, ego-formation and individuality.
The event attracted a full house in 2M70, with faculty and students filling every seat. Following the presentations, the audience engaged in a lively q and a session.
In conjunction with this event, Dr. Burnham also led a workshop in Dr. Flisfeder's class, RHET 3151 – Critical Studies of Discourse and Ideology, on reading the media archaeology discourse surrounding the Truth and Reconciliation Commission and The Survivors Speak digital archive. This workshop was based on Dr. Burnham's book chapter, "Is the TRC a Text," recently published in CanLit Across Media: Unarchiving the Literary Event.
Dr. Jaqueline McLeod Rogers
Professor and Chair
Department of Rhetoric, Writing, and Communications