Sandy Tolman: Part of the UWinnipeg team
Mon. Dec. 16, 2019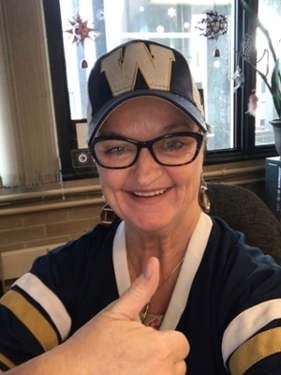 photo supplied

Sandy Tolman is helpful to new staff on campus and makes an effort to get to know everyone.

Sandy Tolman is one of those people. She has worked here for 20 years and is a huge supporter of UWinnipeg, a fan if you will. Over the years, she has worked with students, provided support to departments, and had a role in university governance. It can be good to take a moment to appreciate people like her who are so much a part of what we do here.
I first met Sandy when I came here 18 years ago, and our paths have crossed in interesting ways ever since. It's no surprise that I met her at the gym, because as anyone who knows her will tell you, she is a huge sports fan and very involved in fitness herself (bodybuilding, racquetball, boxing, and baseball – just to name a few of the ones I know!).
I got to know her better when we worked in Education, where she provided administrative support for the access programs. She assisted students from a variety of backgrounds. Her desk was the hub of the office, and she always had students nearby. Sandy also worked for a time as the administrative support to the Dean of Science.
Most recently, Tolman came to work as the Administrative Assistant in the Department of History and Mennonite Studies Program. Here she provides support to make sure the Department stays on track and is often a first contact for new students. It's a good fit for someone who is as outgoing and caring as she is.
Dr. James Hanley, Chair of the History Department, had this to say when he was asked about Tolman: "The photo of Sandy says it all: she is always upbeat, welcoming, optimistic, and a great help to students and faculty. We in History are very lucky to have her." Currently, Sandy is serving a term as the AESES representative on the University of Winnipeg's Board of Regents.
Tolman has long been an important part of UWinnipeg's social scene. For example, Tolman is a longtime member of the Faculty and Staff Club. She served as the Secretary to the Board for eight years. Tolman initiated the annual "Tropical Party" held in February in the Club to brighten the long winter. She even created palms trees for the party. She also enjoyed being a part of UWinnipeg's dragonboat team, the "Rowed Scholars".
Outside of work, Sandy, the avid sports fan, cheers for our Winnipeg teams, and is loving the recent Winnipeg Blue Bombers Grey Cup Victory. She loves her two girls and partner, and her four-legged girl, Jazz.
Lisa McLean
Faculty of Arts