Talking sports - in antiquity - with Peter Miller
Thu. Aug. 15, 2019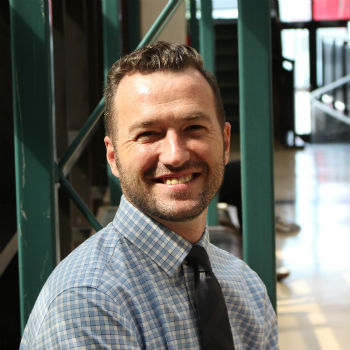 Dr. Miller was appointed UWinnipeg's 2019 Chancellor's Research Chair.
Photo credit: Naniece Ibrahim

To say he's had a successful year with his research would be an understatement. In 2018, Dr. Peter Miller, Assistant Professor in the Classics Department, was awarded a two-year SSHRC Insight Development Grant in the 2018 competition for his project Sports: Between Hellenism and Modernity. This year, Dr. Miller was appointed the University of Winnipeg's 2019 Chancellor's Research Chair. "Dr. Miller's work," says Dr. Glenn Moulaison, Dean of Arts, "is an excellent illustration of the fact that the past is ever-present and informs how we see the world today. It also highlights Dr. Miller's commitment to having his teaching informed by his research excellence." Dr. Matt Gibbs, Chair of the Classics Department, adds that, "Peter is one the finest researchers that I've ever seen. His ambition and his ability to show that his research—in fact, all research in Classics—can be informative, interesting, and enlightening not only for academics, but more importantly for the general public, is second to none." 
I've come to know Peter through the popular New Directions in Classics public lecture series, which he and Classics alumna Ruth Dickinson introduced in 2017-18, through some of his administrative work, and through his active twitter feed. On the heels of the announcement about his appointment as Chancellor's Research Chair, I wanted to find out more about his research. This summer, he agreed to sit down with me to talk about his work. This is what he had to say.
How did you become interested in the field of sports and antiquity?
It was by chance, Dr. Miller says, that he came to study in this field. As a PhD student at Western University, he was a teaching assistant for a course on sport and the ancient world. This field was new to him yet interested him. At the time, Miller was writing his dissertation on the poetry of the Ancient Greek poet, Pindar, who wrote songs for victorious athletes. He realized that the history of Greek sport could provide context for Pindar's poetry and he became fascinated with the topic. Miller adds that this course is a huge draw for students, with as many as 900 enrolled in versions of it now at Western (and usually over 100 at UWinnipeg). It seemed like a good strategy for a pragmatic classicist in a competitive job market, since it combined his own research interests with a topic of great appeal to students.
A major part of your work will be the publication of Sports: Antiquity and Its Legacy as part of the Bloomsbury series Ancients & Moderns. Could you say something about where this fits with respect to previous work in the area and how the study of sport in antiquity is relevant today?
Miller explains that much of the study in sports and antiquity has been on the Olympics. His work, he says, will show how ancient sport has had a pervasive influence on modern sports in terms of: (i) film and art, (ii) physical structures like stadiums, and (iii) body-building, exercise and health, aspects of which, as we will see, were based on classical antiquity.
Miller maintains that the study of ancient sport is far more relevant to today than many people realize. He says, our approach to competitive sport and the way we play involve, or at least imagine they involve, Greco-Roman beliefs and values. Both the basic premise that sport is a positive force in society and our belief that it is meaningful to win have parallels in the ancient world. It is particularly an ancient Greek belief in the social and moral value of sport, Miller says, that dominates.
Could you talk about "reception studies" as an area of study in Classics and give an example from your work?
According to Dr. Miller, reception studies were formerly spoken of as "influence" or "classical tradition". Studies of this type are concerned with how ideas, texts, and material culture from the ancient Greek and Roman worlds are altered and received in a continually evolving way. At its most extreme, he says, some would argue that "Everything is reception. Nothing is original."
As an example of reception, Miller talks about the modern approach to physical fitness. Ironically, it was the particular body in ancient Greek statuary that became the idealized physique early in the 19th century. This happened through studies of ancient statues as well as through the study of neoclassical statues (1750 – 1850), which were themselves based on ancient statues. In this way, he says, you end up with a layering effect. Dr. Miller tells, for example, of bodybuilder Eugen Sandow (1867-1925), who would pose with his body whitened to emphasize its likeness to these statues. Dr. Miller notes that while the Olympics was for the elite, Sandow affected popular culture and the masses. Miller is also studying the work of the publisher of Physical Culture magazine, Bernarr MacFadden (1868-1955). MacFadden was a health promoter who built on the work of Sandow. He was similarly inspired by classical statues and used images and stories of past heroes to inspire and teach. As the work of Sandow and MacFadden shows, when the past is reinterpreted, it can be made relevant to modern life in interesting, and even surprising, ways. And, their work demonstrates that the past is, ironically, continually present.
You also have articles planned for The Conversation Canada during the 2020 Summer Games. Could you talk about a couple of the ideas you have for these?
Miller explains that one of these articles would look at the history of events, such as modern boxing and would explore the connections of these events to the ancient world. Another, he says, would be to consider the experience of spectators in the ancient, especially ancient Greek, world. According to Miller, in the ancient world, as now, spectators practised sports in their own lives and liked to watch high performance sports.
Could you say something about the role of students in your work?
Dr. Miller acknowledges that students play a valuable role in his research. With funding from a SSHRC grant, he's been able to hire Ali Nychuk, a UWinnipeg student as an Indigenous Summer Scholar. She has worked on annotating copies of Physical Culture. As well, he has hired two students at the University of Texas at Austin, who are working to digitize MacFadden's magazine Physical Culture. Their work will provide open access to this early look at the goals and values of the modern physical fitness movement.
Miller adds that, as clichéd as it sounds, it's true that you learn from your students. And it's particularly the case in this area. Unlike some academic subjects, sport is an area that many people have had experience with themselves. Students, he says, often come with perspectives informed by these experiences. For example, Dr. Miller recalls a time when he was teaching a course on the Olympics here at UWinnipeg. He asked students to do an assignment which made connections between antiquity and the present. One student approached him about using the Vancouver 2010 Winter Olympics. Peter smiles as he recalls being skeptical about the idea. But the student went ahead with his support, and, he says, did incredible analysis looking at the myths and stories of Indigenous people of the Pacific Northwest and their ties to the land in comparison to that of the ancient Greeks.
Do you have some upcoming travel associated with the work?
Dr. Miller reports that he plans to go to Greece again next summer to see, among other things, the venues for the 2004 Olympic games that were held there. With the 2004 games being the first games held in Greece in modern history, there was a conscious effort to connect to the past. Organizers tried to connect with the 1896 games in Greece and with the ancient past, so again you have this layering of history, he explains. He adds that he would also like to go to Rome and Pompeii to see the stadiums. Apart from being excellent places to visit, Miller feels that it's important for those studying Classics to be in these physical spaces and to see the landscape of the regions they're studying. He encourages students to avail themselves of every opportunity for such travel.
Lisa McLean
Faculty of Arts