2019 New Faculty Orientation
Wed. Aug. 28, 2019
The University of Winnipeg held its annual orientation for new faculty members on Thursday, August 22, 2019. The event was chaired by Dr. Glenn Moulaison, Dean of Arts, and included both new Regular Academic Staff (RAS) and new Contract Academic Staff (CAS) members.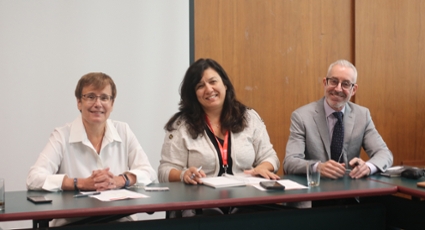 President Annette Trimbee, Ms. Jennefer Neepinak, and Dr. Glenn Moulaison at the 2019 NFO

Photo credit: Naniece Ibrahim
Presentations given at the orientation are intended to provide information that new faculty members need early on in their time at UWinnipeg, including information about academic misconduct, human rights and diversity at UWinnipeg, Human Resources, the Library, Student Services and Accessibility Services, and UWFA. RAS members also had sessions on topics such as the teaching dossier, Research Services, and tenure and promotion, as well as a panel discussion with representatives from each of the professorial ranks.
During the afternoon, President Annette Trimbee and the Univerity's new Associate Vice-President of Indigenous Engagement, Ms. Jennefer Neepinak, met with the new faculty members for coffee and they had informal discussions on a range of topics.
As in previous years, draws were held throughout the afternoon giving attendees chances to win prizes contributed by our sponsors: Canadian Museum of Human Rights, FortWhyte Alive, Manitoba Museum, Manitoba Opera, Prairie Theatre Exchange, Royal Manitoba Theatre Centre, Wesmen Athletics, and Winnipeg Art Gallery. The Winnipeg Symphony Orchestra provided letters entitling each new faculty member to two tickets to a 2019-20 series performance of either: "Soaring Strings: Mozart & Brahms" or "Superhero Showdown". We are so grateful to all of sponsors for their generosity.
Thanks to President Trimbee, Ms. Neepinak, and all our presenters for taking time during those precious last days of summer to welcome our new faculty members and to help make sure they get off to the best start possible.