A new look at an ancient poem
Wed. Mar. 20, 2019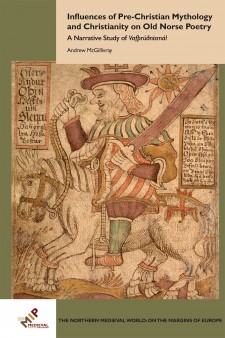 Dr. Andrew McGillivray's new book "Influences of Pre-Christian Mythology and Christianity on Old Norse Poetry: A Narrative Study of Vafþrúðnismál" (Medieval Institute Publications, 2018) 
Certainly in recent years, Old Norse myths and sagas have seen a renaissance in popular culture, such as in the drama series Game of Thrones. Often these stories, like the actual Nordic world, are harsh, dangerous, and violent. But the age also encompassed beauty and traditions that can be found in today's world. Understanding the truths of this age has become the work of Dr. Andrew McGillivray, Assistant Professor in the Department of Rhetoric, Writing, and Communications. 
While on a student exchange in Denmark as an undergraduate student, Dr. McGillivray became aware of these traditions. On returning to the University of Manitoba, he took a course in Old Norse mythology and his world has not been the same. Further studies took him to Iceland where the language and topography echo and have re-echoed these traditions down through the ages.

Dr. McGillivray's recent book Influences of Pre-Christian Mythology and Christianity on Old Norse Poetry: A Narrative Study of Vafþrúðnismál (Medieval Institute Publications, 2018) centers on the poem, "Vafþrúðnismál". While the poem has existed in manuscript form from about 1270 A.D., it likely has an oral tradition that goes back to, at least, 999 A.D.  It was at this time that Iceland is known to have converted peacefully to Christianity. The people of this era had changed; they added and blended Christian beliefs into their Nordic ways of life. The new and the old found ways to co-exist and, McGillivray says, that this is reflected in the poem. He adds that the poem is believed to have been recorded by a Benedictine monk, and it contains myths inside of myths, some of which have been corroborated in inscriptions found in runestones which tell stories of Pre-Christian times.

Often stories drawn from Nordic times are harsh and violent. Óðinn and his son Þórr are powerful and fierce personages that are known to many today. But here, in "Vafþrúðnismál", the wily Óðinn engages an adversary, Vafþrúðnir (pronounced Vap-thrud-neer), in a life-or-death contest not on the battlefield but in knowledge. This is a new, to some, and engaging aspect. These characters are complex and multi-faceted. Each Nordic text that McGillivray studies adds detail to our understanding of this ancient society.
Dr. McGillivray has learned to read and speak Icelandic and has also learned to read Icelandic's sister languages: Danish, Swedish and Norwegian. Understanding the text can introduce us to the actual ancient society, and so we need not depend on fabulist re-inventions that dominate much of popular culture. Often the truths are more interesting than make-believe. While we see Nordic themes alive today, this revival is not really new. Nordic concepts have been present for centuries. McGillivray notes that "Wednesday" (literally "Óðinn's day") and "Thursday" ("Þórr's day") are but two reminders of Óðinn and Þórr that have come down to us. In Iceland, he says, the use of mythology still exists as a living tradition, one which he thinks has less to do with religion than it does with poetic expression.

While Iceland and the Scandinavian countries are the epicenter of much of his research, McGillivray has also become interested in Manitoba settlement communities, such as Gimli, which was settled by Icelanders. Here, he says, residents feel strongly about these myths as part of their heritage. And interestingly, some of the settler myths and narratives about how settlers connected to the land here in Manitoba, he says, can be traced back to the settlement of Iceland itself in 870 or 871 A.D. Also of interest to Dr. McGillivray are the failed Nordic settlements in Newfoundland and Labrador, which they called "Vinland."  He is interested in how these populations interacted with Indigenous people. Through them, he says, we can gain a real appreciation for what was here before European settlers.

McGillivray explains that his research has affected his teaching in a couple of ways. First, it influences the types of specialized courses that he will introduce in the Department of Rhetoric, Writing, and Communications. For example, he would like to create a course on medieval rhetoric from ancient times to the modern period. The first half of the course would examine the way medieval texts were created, while the second half would look at how medieval texts and symbols are used in the present. Second, much of McGillivray's research is on settler populations and learning about both those who came and those who were displaced. Their interactions may well form the personal history of many of his students. So in that way his work helps him relate to his students, but really to all of us. The traditions may be ancient, but they are not quite dead – and will not be if Andrew McGillivray has anything to say.
Barbara Foucault and Lisa McLean
Faculty of Arts