UWCSA hosts successful student colloquium
Thu. Feb. 7, 2019
The University of Winnipeg Classics Student Association (UWCSA) has done it again. Each year the group (pictured above) plans the event and reaches out to students in other departments at UWinnipeg. For this year's event, which was held on Friday, January 18, they worked to include three students from MacEwan University (Edmonton) and a student from the University of Manitoba, transforming this event into a true undergraduate symposium in Classics for the city of Winnipeg. And it was a tremendous success.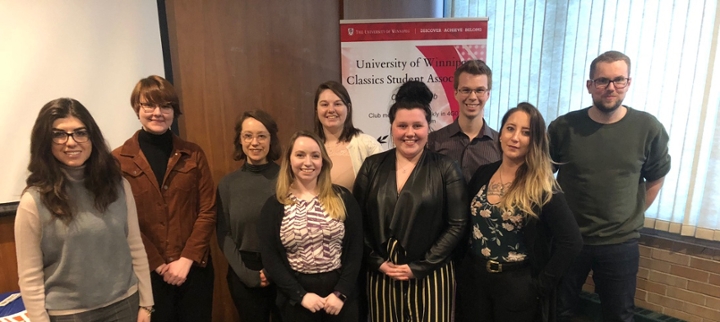 Student presenters from left to right: Leyla Seyidova, Abby Riehl and Leanna Buttery (MacEwan University); Heva Olfman, Allannah Harms, Mackenzie Stewart, Ryan Wark, Jazz Demetrioff (University of Winnipeg); Missing: Harrison Grey (University of Manitoba)
According to Jazz Demetrioff, President of the UWCSA, "The goal of this event was to have students who had previously written a paper/presentation to present it again, but this time in front of their fellow students, professors, and the community. We want students to be noticed for their hard work and for them to share their ideas and innovative research with their peers and faculty from across Winnipeg."

Jazz adds that, "The UWCSA's mission is to promote the study of Classics within the student body as a whole; events like the Undergraduate Colloquium give students a chance to shine – and to show the high calibre of undergraduate research at the University of Winnipeg." The students' papers represented a range of topics in Classics including the Mesopotamians, Plato's tripartite soul, health in Antiquity, the Christian persecution, and the Ottoman Empire.
Dr. Glenn Moulaison, Dean of Arts, states that "The quality of the work done by these undergraduate students is extraordinary, but of course, not surprising. I'd like to congratulate all those who presented, as well as the UWCSA, especially for extending an invitation to their colleagues from away."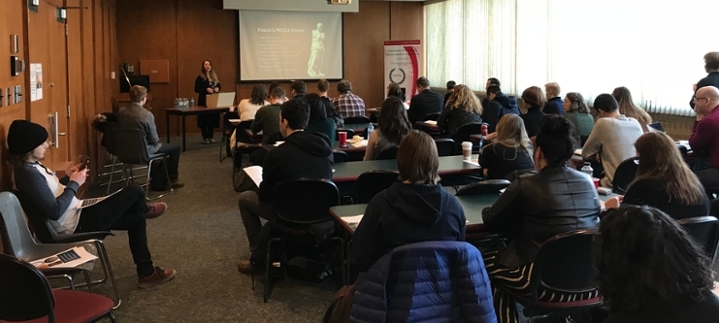 Faculty, staff, and students were on hand for the annual UWCSA Colloquium on Friday, January 18, 2019.