McLuhan Symposium: "West Awake"
Tue. Nov. 26, 2019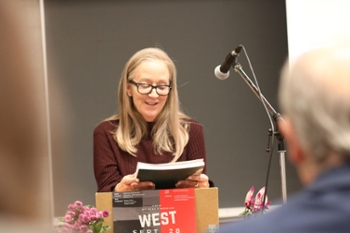 Dr. Jaqueline McLeod Rogers introduces the book "MCLUHAN AND THE ARTS: Imaginations" at "West Awake"
Photo credit: Naniece Ibrahim
On September 28, 2018, the University of Winnipeg hosted the "McLuhan Symposium: West Awake", a day of communications and media programming. The day featured creative and scholarly presentations, including presentations by Matthew Flisfeder, Jason Hannan, Kathy Buddle-Crowe, and Laurence Broadhurst, among others, as well as film work by Jarrett Cole and Gordon Pepper. There was a book launch for "MCLUHAN AND THE ARTS: Imaginations" (University of Winnipeg's Faculty of Education Publishing), which Jaqueline McLeod Rogers co-edited with Adam Lauder, and a film screening of Richard Altman's new film about McLuhan's local inspirations.
Jaqueline McLeod Rogers, Acting Associate Dean of Arts and Professor of Rhetoric, Writing, and Communications, has a long-standing interest in the work of the late Dr. Marshall McLuhan, noted academic and intellectual, whose work on communications and media was prophetic, controversial, and, she argues, is still relevant in understanding communication and design practices today. Dr. McLeod Rogers organized the day's event with Adina Balint, Associate Professor in the Department of Modern Languages and Literatures, and Jen Reid, who teaches in the Department of English and is a recognized McLuhan scholar.
Dr. McLeod Rogers explains that the title for the Symposium, 'West Awake', is a play on words. McLuhan, she says, "was known for using the Joycean phrase 'The East shall shake the West awake'". McLeod Rogers goes on to say, "We altered this to 'west awake' for several reasons. The conference celebrates the prominence of McLuhan in local scholarship with a nod to his birth in western Canada. It also seeks to contemporize McLuhan's vision, and revising the phrase was a step in this direction to avoid implying that West leads East in global change. McLuhan wanted us all to avoid being led and lulled by technologies and to awaken to a fuller sensory and active life."