Classics graduate is Valedictorian
Wed. Oct. 10, 2018
Daniel Russell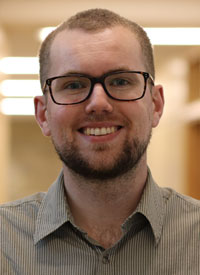 Daniel Russell, Valedictorian for the 2018 Fall Convocation
On learning that their soon-to-be graduate, Daniel Russell, had been selected as the Valedictorian for the 2018 Fall Convocation, Dr. Matt Gibbs, Chair of the Department of Classics, with the help of other faculty members in the Department, shared the following which describes the exceptional student - and person - they have come to know so well. 


Daniel is an excellent student, and has been in all the time that he has been at UWinnipeg. He enlivens any of the classes that he participates in, and his inquisitiveness and collegial attitude support a positive learning environment for the whole class. 


Daniel's excellence in Classics has been noted nationally by the Classical Association of Canada (CAC): while he won the Margaret H. Thomson Prize for ancient Greek in 2016, he received an honourable mention in the Senior Greek competition in 2017. These highly competitive competitions are not for the faint of heart: students from across the country must translate unseen passages without the aid of a dictionary or grammar and within a set period of time. Their translations are then ranked in a blind adjudication process. Daniel beat out students from some of Canada's top schools including the University of Toronto, McGill University, and McMaster University. But Daniel's skills are not simply limited to philology; he is also a skilled historian, and this was recognized when he received an honourable mention in the CAC's undergraduate essay writing competition in 2015/2016 with an essay entitled "Gothic Identity and the Methods of the Incorporation." 
Moreover, Daniel's interests and success are not only at the local and national level. He has also represented the University of Winnipeg internationally, having been part of the archeological excavation team at Sikyon, Greece, digging with Dr. Matt Maher on two occasions. He was one of seven University of Winnipeg students who accompanied Dr. Maher to Greece in the summer of 2015. As an archaeological field school, this course was extremely demanding and involved working eight hours a day (six days a week) in the field, as well completing assignments on evenings and weekends. In this course, Mr. Russell stood out. Academically, he received the highest marks in the course, while in the field, his performance and skilled grasp of archaeological methodology was superior. When Dr. Maher was asked to put together a team of his best students, Dan was asked to return to work to Greece in the summer of 2017. Owing to his work ethic, reliability, and performance, when short-staffed, Dan was heavily relied upon and was promoted to assist the trench supervisors.
While his academic excellence is no surprise, it is worth stressing that he's not only an exceptional student, he's also incredibly generous and thoughtful with respect to his instructors and his fellow-students. This can be seen in the fact that he's played several important roles in the Classics department and in the wider University community too. He's been employed as a TA "teaching" Latin for two years now (this is his third), and he is an Research Assistant for Conor Whately's SSHRC Insight Development grant (2016-18). He has played an integral role in the University of Winnipeg Classics Student Association (UWCSA), serving in several executive positions and representing the UWCSA and the Department at University Roll Calls, Open Days, Future Student Nights, and Alumni evenings, and helping his peers in unofficial capacities, offering to help through the Students' Association. 
His interests in history are also reflected in his life outside the University. When he is not in class, he works at the Manitoba Museum as a Visitor Services Associate, and he is known for his interest in introducing people to history. 
Dr. Matt Gibbs MPhil DPhil (Oxon)
Associate Professor and Chair
Department of Classics