Dr. Stephanie Balkwill, REL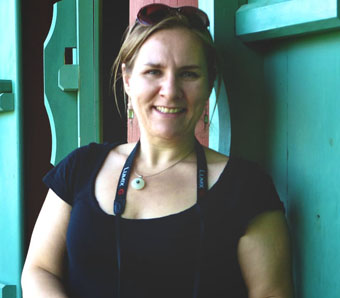 Dr. Balkwill studies the lives of Buddist women who lived in China between the fourth and sixth centuries.
Dr. Balkwill is very happy to be back on the Canadian prairie! From Regina, Saskatchewan, Dr. Balkwill completed her BA (High Honours) in Religious Studies at the University of Regina, where she also began studying Mandarin. Upon completion of her undergraduate degree, she set off to China on a U of R exchange to study the language intensively for one year at Shandong University. Now—almost fifteen years later—she has lived in China on and off over the course of her graduate studies, has traveled extensively across all of Asia, and is ever more fascinated with the question of how people have been religious across the long history of the region.
Dr. Balkwill's work focuses on the social, literary, and political lives of Buddhist women who lived in China between the fourth and sixth centuries. She is currently working on a book-length study of a 6th-century Empress Dowager who—along with being a public patron of the Buddhist tradition—has been remembered as a fiercely vocal politician, a murderer, a "licentious" woman, and, at the very end, a Buddhist nun. She is also working on a second volume concerning the idea of female-to-male sex change on the path to Buddhahood, an idea necessitated by the fact that a woman cannot become a Buddha in a female body. She is also co-editing a compilation of studies which explores the various roles that tradition of Buddhism has played in the running of the state throughout the political history of East Asia.
Having completed her PhD in Buddhism and Chinese Religions at McMaster University in Canada, where she also earned a graduate diploma in Gender Studies and Feminist Research, Dr. Balkwill has held fellowships from the Robert H.N. Ho Family Foundation in Buddhist Studies, the American Council of Learned Societies, the Social Sciences and Humanities Research Council of Canada, the National Central Library of Taiwan, and the Chiang-ching Kuo Foundation for International Scholarly Exchange. Upon completion of her PhD she was awarded a two-year post-doctoral fellowship in the Society of Fellows at the University of Southern California where she spent her time researching the ideal of female-to-male sex change in Buddhist texts and exploring the California coast.
When she's not thinking about Buddhism she's probably out enjoying the Winnipeg food and culture scene with her family. She is absolutely delighted to be at the University of Winnipeg and feels very fortunate to call Winnipeg her new home.