APTN features MA student
Fri. Sep. 1, 2017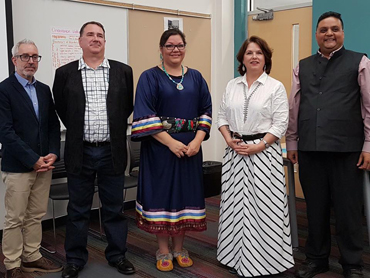 Crystal Flamand (centre) with Dr. Glenn Moulaison, Chair of the Practicum Defense, and members of her examination committee from left to right: Dr. Mark Ruml, Dr. Julie Pelletier, and Dr. Shailesh Shukla
In this video from APTN, we hear how one UWinnipeg student is using her education to affect the lives of Indigenous youth in positive ways. Crystal Flamand is from Wikwemikong First Nation in Northern Ontario. In 2012, she became a student at the University of Winnipeg in the Master of Arts (MA) in Indigenous Governance Program.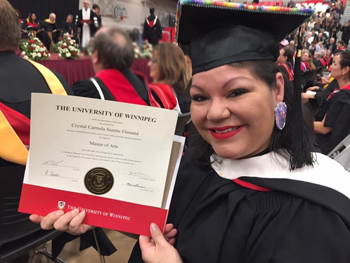 Yesterday, Flamand completed the final requirement for her MA in a practicum defense/examination in which she reflected on her practicum experience. The defense was chaired by Dean of Arts, Dr. Glenn Moulaison. Dr. Shailesh Shukla, Associate Professor in the Department of Indigenous Studies, Flamand's supervisor, Dr. Julie Pelletier, Acting Executive Director of the Global College, and Dr. Mark Ruml, Professor in the Department of Religion and Culture, were members of the examination committee.
Crystal Flamand (left) graduated with her MA at the 2017 Fall Convocation.

But it is the nature of Flamand's work that is the real story here. For her practicum, Flamand went to Pikangikum First Nation, another community in Northern Ontario, which, sadly, is known for its extremely high youth suicide rate – among the highest in the world. There she did her practicum as a youth worker. Her thesis addressed the effect of introducing culture as a healing strategy, using powwow in particular. She worked with groups of children as they participated in powwow to see if this could be used as a means of connecting them with their culture and increasing their sense of well-being. Flamand explains that while the children were quiet, she could sense their pride and happiness they were experiencing as they learned about and participated in powwow.
Flamand will graduate in the University of Winnipeg's Fall Convocation on October 13, 2017. Going forward, Flamand, who has three young children of her own, will be looking for a job in which she can continue this important work in other communities.