2017 Bonnycastle Lecture: "UniverCities"
Fri. Sep. 8, 2017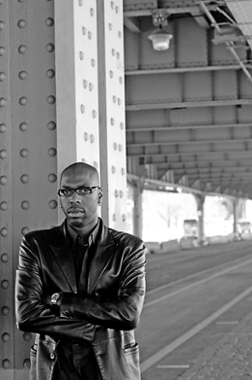 Dr. Davarian L. Baldwin of Trinity College in Hartford, Connecticut will give this year's Bonnycastle Lecture.

Dr. Davarian L. Baldwin is the Paul E. Raether Distinguished Professor of American Studies at Trinity College in Hartford, Connecticut and on Wednesday, September 13, 2017, we welcome him to UWinnipeg to give the 2017 Bonnycastle Lecture which will be entitled: "UniverCities: Higher Education and the New Management of Urban Districts."
Date: Wednesday, September 13, 2017
Time: 6:00 p.m.
Leatherdale Hall
Alongside numerous essays and scholarly articles, Dr. Baldwin is the author of Chicago's New Negroes: Modernity, the Great Migration, and Black Urban Life (University of North Carolina Press, 2007) and co-editor (with Minkah Makalani) of the essay collection, Escape From New York: The New Negro Renaissance beyond Harlem (University of Minnesota, 2013).

Dr. Baldwin is currently at work on two new single-authored projects, Land of Darkness: Chicago and the Making of Race in Modern America (Oxford University Press) and UniverCities: How Higher Education is Transforming Urban America. He is also editing the Encyclopedia of the Harlem Renaissance: Using the Present to Excavate the Past (Greenwood Publishers) and served as a consultant for the art retrospective, "Archibald Motley: Jazz Age Modernist," currently at the Whitney Museum of American Art.
About the talk

Today colleges and universities are the dominant employers, real estate holders, policing agents, and educational and health care providers in major cities where they once played a less prominent role. The growing influence of higher education forces us to take a sober look at the rise and implications of what I call "UniverCities." This talk examines a series of university-community relationships to examine the promise and pitfalls of higher education as a central, yet profoundly under-examined, manager of urban districts in today's cities.