POL prof returns to UWinnipeg
Wed. May. 17, 2017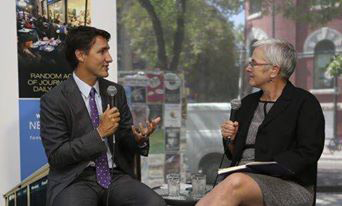 Dr. Shannon Sampert interviewed then Liberal Leader Justin Trudeau in June 2014 while she was the Perspectives and Politics Editor of the Winnipeg Free Press.

Photo credit: Winnipeg Free Press







Dr. Shannon Sampert is Associate Professor in the Department of Political Science where her teaching and research focus on media, politics, and gender, and the intersections of these. Sampert recently returned from a two-year eight-month term as the Perspectives and Politics Editor of the Winnipeg Free Press (WFP), and in that capacity she was the first female op-ed editor in the paper's 140+ year history.
I followed her work with interest. There were many important dates during this period (August 2014 to March 2017), among them civic, provincial, and national elections; the American election; and the release of the report of the Truth and Reconciliation Commission. I was - and still am - awed by the scope, depth, and impact of the job.
I remember seeing Sampert's first interview of then Liberal Leader Justin Trudeau ("Justin Trudeau draws a large crowd to News Café", WPF, August 14, 2014) and admiring her grace and poise, her usual quick wit, but mostly I remember how comfortable she looked. It could have been a colleague or neighbour she was speaking with - and not the soon-to-be Prime Minister of Canada. It looked like she had been doing this her entire life, and, as we'll see, it turns out she had been since she was all of 15.
There were particular columns that stood out for me. There was the one in the lead-up to the holidays in 2014, "My mother gave the gift of Christmas" (WFP, November 29, 2014), where she shared memories of her late mother's special generosity at Christmas in highlighting the Christmas Cheer Board's annual campaign for that year.
And, I read with interest her work after the election of Donald Trump as President of the United States. (I was one of those who didn't see that coming.) As we'll see, Sampert was literally on the ground in the US at that time, and I was keen to hear the perspective of someone I trusted in her pieces "History was made, now the cleanup begins" (WFP, November 9, 2016) and "Lessons to be learned from U.S. election" (WFP, November 14, 2016).
Sampert may be back to UWinnipeg, but my enthusiasm about her work with the WFP hasn't waned. Maybe it is the "almost personal" connection I have to her - my uncle is a close friend of her dad in Alberta. Maybe it is seeing a woman - a contemporary of mine - also from a smaller prairie community doing such amazing work. Or, maybe it is the chance I got to speak with someone who did all that. Here is what she shared when we did just that.
Spotting a photo of Sampert with Hilliary Clinton on a shelf above us, I start by asking her about that meeting and other highlights.
Sampert met Clinton at a private function where she was giving a talk. Sampert was in the United States with three Members of Parliament and party people participating in the United States Department of State International Visitor Leadership Program prior to the American election. That was "a remarkable experience," she says.
Sampert lists the following as other highlights:
interviewing Justin Trudeau - three times!
having access to the Canadian Museum of Human Rights prior to the official opening.
interviewing award-winning author, John Ralston Saul, "In conversation with… John Ralston Saul" (WFP, May 14, 2016), when he was in Winnipeg.
being present when cabinet was sworn in.
having a front row seat for the provincial election - "the best time ever."
Sampert acknowledges that there were aspects of the position which were difficult, especially at first, as she had never done op-ed work before. There were a lot of negative responses, which wasn't surprising. "You have to have thick skin," she says. Some of the feedback came in the form of personal attacks, however, and some made assumptions that simply were not true. "You're continually putting yourself out there," she says. "It's reassuring, though," she adds "that your work isn't set in stone - unlike academic work!"
I read that you have a background in journalism. Could you tell me a bit about that and how it was that you came to work for the WPF?
"I started with a radio station in Wetaskiwin, AB. They were looking for a volunteer community reporter - I took that opportunity and those that followed; eventually, I went on to study media and Canadian politics."
Sampert then explains how she came to work with the WFP. On a weekend in June of 2014, she was spending time with her dad when she had a call from Paul Samyn, Editor of the WFP (and UWinnipeg alum), who said there was an opening for the position as editor of op-ed pages. Sampert smiles recalling how she had told Samyn she would pass the information on to her connections. As it turned out, it was Sampert herself they had in mind. Samyn asked Sampert to give the work a try by writing two op-ed pieces of 650 and 850 words for the following Monday. In this case, Sampert was to be away that weekend, so Samyn gave the professor an extension! Sampert did the assignment: one piece on Peter McKay and the other on minimum wage. She then started looking at taking a leave from her position at UWinnipeg.
What impact will this experience have on your teaching?
During her time with the WFP, Sampert says she was able to see up close the full effect of the fall-out from social media and its impact on media. There have been changes in the way online is presented. The WFP now has a paywall, the first paper in Canada to go that route. Now, having had a first-hand view of this transition, it will be important, she says, to relay to students the effect that this has had on the news that is produced. And there are important questions to be asked too, she adds: "How do you restore people's trust? What failed? Why is this not working?" Her message to students, she says, will be that it is important to read newspapers - and local news - otherwise you're not getting it.
How has it been transitioning back to your work at UWinnipeg?
In her third year with the WFP, Sampert started looking into the possibility of setting up a media centre at UWinnipeg. She is now the Director and Editor-in-chief of EvidenceNetwork.ca, which takes evidence-based research and creates original media content - something that for her was "a wonderful marriage of my skills." Currently, EvidenceNetwork deals solely with health care policy, but she thinks it could eventually broaden to include other types of evidence-based policy. As well, Sampert still writes two op-ed pieces per month for the WFP, including a recent one ("Public health ignores men's suicide", WFP, April 27, 2017) addressing suicide in men.
What is the focus of your current research?
Sampert says her research group is finishing up a study of the Globe and Mail representation of women in Canadian politics from 1975-2017. The group plans to publish these papers as a book. She is also working on a paper with a graduating honours student at the University of Alberta for a conference in Banff in which they are looking at Kevin O'Leary's use of Facebook as a way of sending information and campaigning on Facebook and the concept of "truthiness."
What lasting impact will this experience have on you as a person?
Sampert: "I think I'm a better writer now, better with theory, and stronger and faster." And, she says, "I have a newfound respect for the people at the WFP and how hard they work." But she adds, "I've changed too. I'm stronger, and now I don't feel it's so important to be liked." Becoming a manager was "interesting," she says. "I came into the job with no experience writing editorials and I worked with two people who between them had 75 years-worth of experience, so that could have been difficult; but they were both so generous and kind."
In the 2017-18 academic year, Shannon Sampert will teach "Canadian Politics" (POL-2400-001) as well as "Politics and the Mass Media" (POL-3455-050) in the winter term.

Lisa McLean
Administrative Assistant
Faculty of Arts
P 204.786.9490
E l.mclean@uwinnipeg.ca