Asst Prof receives teaching award
Mon. May. 15, 2017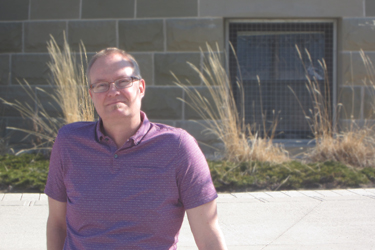 Dr. Curt Pankratz
Teaching Statement: As teachers, we are sort of like ambassadors to critical thought. Part of the job is to demonstrate how an engaged life might look. It can be extremely rewarding to see students experience innovative ways of thinking, and if we're lucky, we get to see how that reshapes their personalities. At the same time, we need to be conscious of the power we, as professors, bring into those relationships. 

Dr. Curt Pankratz, Assistant Professor in the Department of Sociology, has received this year's "Faculty of Arts Excellence in Undergraduate Teaching Award: Instructor or Assistant Professor." The Faculty of Arts Excellence in Undergraduate Teaching Awards recognize a strong commitment to pedagogy and excellence in teaching students. This is to be demonstrated through classroom teaching in the development of innovative, creative, and adaptive teaching methods and approaches, together with support for, and mentoring of, students.
Students and faculty alike admire and applaud Dr. Pankratz for his excellent teaching. According to Dr. Fiona Green, Associate Dean of Arts and Chair of the Selection Committee for the awards, "Students speak highly of Curt's engaged and kind approach to fostering critical thinking and individual empowerment in class. They also praised his commitment to mentoring both students and junior faculty outside the classroom." Dr. Green concludes, "Curt has definitely made a positive contribution to their development as scholars, teachers and human beings."
Dr. Pankratz was recognized among his peers at the annual Arts Faculty Council meeting which was held on Wednesday, May 3, 2017.
See also: