SOC update: interview with Catherine Hunter
Wed. Jan. 25, 2017
It's been a year and a half since Catherine Hunter, Professor and past Chair of English, assumed her two-year term as Acting Chair of Sociology. We've been hearing about good things happening in the Department, so I thought it might be a good time to meet with Dr. Hunter to get an update.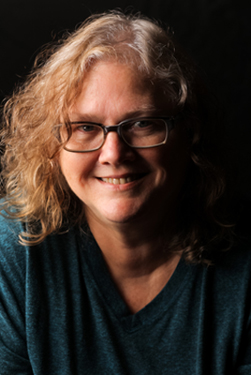 Catherine Hunter is the Acting Chair of Sociology, Professor and past Chair of English (photo supplied)

LM: I started by asking her about the initial transition to her new role.
CH: It has really been a pleasure to be Acting Chair for the past year and a half now. I'm especially grateful to Carla Myketa, Department Assistant, for her kindness, assistance, and efficiency. The whole Department has made me feel welcome and taught me a lot.
LM: In late October, we featured the special issue of Studies in Social Justice entitled "Mental Health and Distress as a Social Justice Issue", which was co-edited by Heidi Rimke, Associate Professor in Sociology, as Chief Guest Editor. (To read more about this or to access the online edition, you can go to Sociology prof co-edits special issue of journal, Oct. 31, 2016). I asked Dr. Hunter if she could comment on that.
CH: Dr. Rimke's special issue of the online journal highlights for us the importance of the work she does; all of the papers in that issue relate to the concept of psychocentrism, the theory that she has developed. And while it's a theory that's been well received in the field, it goes beyond the field of Sociology and is applicable to the work of professionals – and non-professionals – concerned with mental health.
Dr. Hunter adds The journal is innovative in that it also accepted creative work, combining the creative with the academic.
LM: I asked if Dr. Hunter could tell me more about some of the research that is being done in the Department.
CH: Kimberley Ducey is an amazing professor who is doing very interesting research. Dr. Ducey co-authored with Joe R. Feagin, a book entitled "Elite White Men Ruling: Who, What, When, Where, and How" (Routledge, 2017). In one of the early responses to the book, Rodney D. Coates declared "Feagin and Ducey go where few social scientists dare to go". Dr. Ducey also co-edited, with Ruth Thompson-Miller, "Systemic Racial Theory: Making Liberty, Justice and Democracy Real".
Faculty members in Sociology Ken Fish, Curt Pankratz, and Jonathon Franklin have just finished a project together. It was a 2-year project using funding from an internal grant studying the perceptions of University students regarding the use of vehicles and smart phones. Dr. Pankratz and Mr. Franklin conducted the survey while Dr. Fish provided the theoretical perspective.
Dr. Hunter notes We highly value the collaborative work being done in the Department.
Dr. Pankratz is doing further research into public safety through a Canadian Institutes of Health Research (CIHR) grant to study intended and unintended impacts of Manitoba's new booster seat and bicycle helmet legislation, including the impact on particular social classes and ethnic groups. In this project, he is collaborating with colleagues from the University of Manitoba.
Wei Xing is doing some interesting work as well, specializing in the sociology of the family, especially immigrant families. She recently added a couple of exciting courses to the curriculum, i.e., "Globalization and Families" SOC-3303 and "International Migration" SOC-3305, both of which are relevant and important to Canadian society.
Colin Goff updated his criminology teaching in recent years to include crimes against the environment, in courses such as Green Criminology. He is also developing a new course in the area of critical animal studies, which has attracted a lot of interest from students.
LM: I asked her if there were any other highlights she wanted to add from her term as Acting Chair.
The Department of Sociology was very proud of the teaching award Jonathon Franklin received, i.e., the Faculty of Arts Excellence in Undergraduate Teaching Award for 2015-16. Mr. Franklin teaches quantitative methods, a course many students find challenging. Yet he is frequently sought out by students and praised for the clarity of his teaching methods.
Dr. Hunter pauses/smiles and then adds, on a lighter note: Sociology is building an extremely strong Trivial Pursuit team and is willing to compete against any and all challengers at the University Club. (And while this is something done for fun, it is reflective of the nature of the relationship of faculty members in the Departments as colleagues who enjoy, and are supportive of, one another.)
LM: I ended by asking her for her thoughts on the future of the Department, and about what is next for her.
CH: The Department is working to rebuild the strength of the Honours program and doing a review of its entire curriculum, both of which are very positive steps. (For more on this, please see Looking Forward: SOC Honours program open to new admissions.)
Dr. Hunter adds: Dr. Colin Goff is the incoming chair as of July 1, 2017, and with the new Chair, I see them going forward strongly.
And for me, I go on research leave in July and will work on some poetry.