Launch celebrates "Crossings"
Mon. Jan. 30, 2017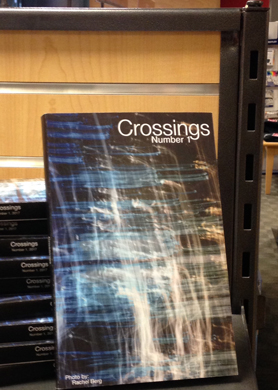 "Crossings, Number 1" will be available online and is available now at the UWinnipeg Bookstore.

Cover art by Rachel Berg.


There was standing room only during the free period in 2M70 on January 23, 2017, as Dr. Jane Barter, Associate Professor in the Department of Religion and Culture, welcomed everyone to a celebration marking the launch of the first issue of the new peer-reviewed journal for students, Crossings, Number 1. Looking around, it was easy to see that there was good representation from the various disciplines in Arts, reflective of the interdisciplinary nature of the journal, and from University of Winnipeg's Library.
Dr. Barter took a few minutes to individually acknowledge each of the faculty editors who had volunteered their time in this important task, and are listed here as follows.



Dr. Adina Balint, Modern Languages and Literatures
Dr. Matt Dyce, Geography
Dr. Danielle Gaucher, Psychology
Mr. Michael Hohner, Library
Dr. Steven Kohm, Criminal Justice
Dr. Jaqueline McLeod-Rogers, Rhetoric, Writing, and Communications
Dr. Heather Snell, English
Dr. Neil Besner, Provost and Vice-President (Academic), offered his congratulations to the students, saying that it looks like a strong publication. Dr. Danielle Gaucher (Psychology) introduced the authors and said a few words about the format of the event, which consisted of four panels, each of which was centered around papers having a particular theme:
(i) Media and Arts as Sites of Critical Reflection
(ii) Understanding Self and Identity
(iii) Challenging Stereotypes, Sex and Gender
(iv) Reflecting on Intergroup Relations and Dynamics
The student presenters were poised as they presented from their work and addressed questions from the audience. For example, Education student, Taylor Daigneault, explained that his paper "Gender Dysphoria: An Introduction for Educators and Policymakers" had first been written for Dr. Laura Sokal's course "Introduction to Inclusive Education." Taylor said he had then adapted the paper as a conference presentation before submitting it to Crossings. When asked what recommendation he would make based on what he had learned, Taylor said that rather than retrofit schools to be inclusive, he'd like to see student diversity considered when schools and programs are designed so as to be equipped to meet the needs of every student.
Psychology student, Jamie Pfau, began by noting that she was a student of Psychology professor, Dr. Danielle Gaucher, who was present as one of the facilitators. "No pressure!" Pfau smiled as she began her reading from her paper "What Makes a Good Parent in the Age of Intensive Parenting? The Pivotal Role of Sacrifice". Jamie explained that she was motivated to consider her topic in particular, as a parent of four children herself who is balancing the challenges of that role with that of student. The choices involved are very real for her: "Do I go to my child's hockey game?" or "Do I prepare for my assignment or test?"
Dr. Matt Dyce (Geography) was one of the panel facilitators. He commented on the process the students had undertaken. The start of the process may be a paper prepared for a course, he says, as it was for Taylor and Jamie, but here the conversation about the work continued. The editorial comments were received and the recommended changes incorporated and the work resubmitted. Continuing this process until the work is deemed publication ready is a real achievement, he says.
Dr. Heather Snell (English) facilitated the final panel and said that as one of the editors, she could attest to the amount of work involved. Dr. Snell also remarked on the "richness of thought," where writers in the fourth panel had expressed concern about discourses such as multiculturalism, humanness, Nazi ideology, and decolonization, but added that the same could be said to be true for all of the papers.
Dr. Steven Kohm (Criminal Justice) offered some words of thanks and encouraged those present to consider getting involved in next year's issue, saying they will be looking for support in a variety of tasks associated with putting out the journal. Organizers are already looking ahead to next. A copy of the call for papers was distributed and Dr. Kohm noted that for this issue they will be tying into the 150th anniversary of Canada, "From 1867 to 2017: Restorying Canada." The submission date for this issue, which will appear in January 2018, is April 24, 2017.