Meet Nyala Ali
Mon. Sep. 26, 2016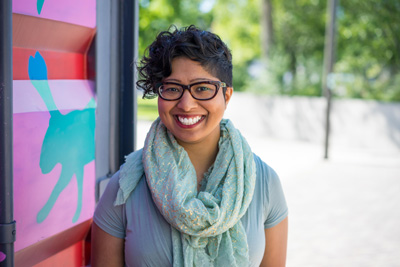 Nyala Ali, Classics, Philosophy, and Women's and Gender Studies
(Photo credit: Rachel Berg)

Nyala Ali is the new Department Assistant for the Departments of Classics, Philospophy, and Women's and Gender Studies. Nyala, however, is no stranger to the University of Winnipeg. From Janauary 2013 - March 2014, she held a term position as Department Assistant in the Department of English. And she is also a UWinnipeg alumna. Nyala Ali holds an M.A. in Cultural Studies: Texts and Cultures (2011). Her research interests include comics and graphic novels, girlhood studies and critical race theory. She writes about gender in comics and music and has been published in Jeunesse: Young People, Texts, Cultures and Networking Knowledge: Journal of the MeCCSA-PGN, and contributed to the online magazines Women Write about Comics, shameless and Tom-Tom. She is currently working on a book-length project entitled A New Way to WoC: Reading Race and Girlhood in Comics.
Nyala has reviewed four books since early June for the Winnipeg Free Press:
"Musical salvation: Graphic novel portrays songwriter Johnston's life as spellingbinding, contemporary fable" (Winnipeg Free Press; September 24, 2016)
"Devoted to David: Bowie's death spurs author's musing on the man and his music" (Winnipeg Free Press; August 28, 2016)
"Colonial comic: Graphic novel depicting U.S./Apache conflict resists temptation to sensationalize" (Winnipeg Free Press; July 30, 2016)
"Dire diagnosis: Harrison's memoir of living with cancer delivers humour, honesty and hope" (Winnipeg Free Press; June 4, 2016)
We welcome Nyala back to the Faculty of Arts and look forward to hearing more from her.