Layers: Featuring the work of Rachel Berg
Wed. May. 25, 2016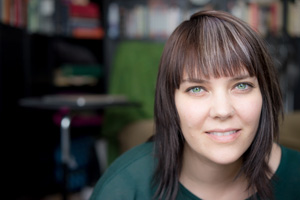 Last spring, we highlighted a new book by professor of French, Dr. Adina Balint. The cover of Adina Balint's book has an intriguing photo created by Rachel Berg, Department Assistant for Modern Languages and Literatures (MLL) and Religion and Culture (REL). I wanted to find out more about Rachel and her work.
Above:"self-portrait" (photo supplied)

about her education . . .
Rachel is a University of Winnipeg alumna. She graduated with a double major in Religious Studies and Theatre. In Theatre, she did a concentration in set and costume design, as a student of Professor David Hewlett*. In design, she says, the theories and principles you learn apply across the board in other media, such as photography.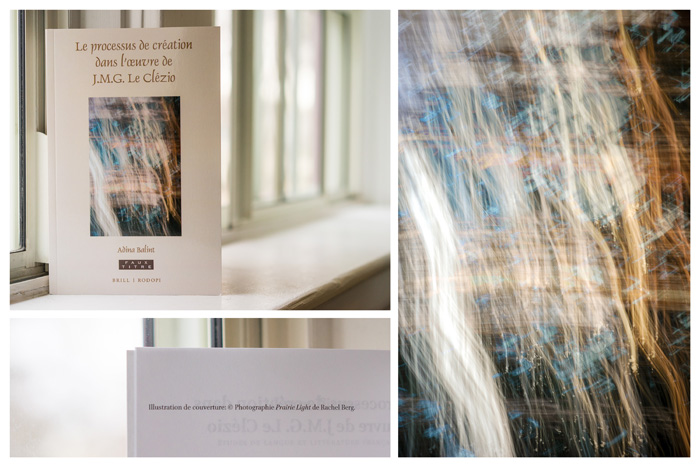 Rachel Berg's image is made up of four photos which she has layered using Photoshop, playing with the idea of layers representing the creative process, with the intersections as bursts of inspiration (photo supplied).

about her job . . .
Rachel has been working in her present position since 2005. Her familiarity with the Department of Religion and Culture was a big help on her very first day on the job, which just happened to also be the first day of the Fall term. Talk about trial by fire! Working in the Department of Modern Languages and Literatures was also a good fit, as she was in French Immersion for six years. The faculty and students are what motivate and inspire her. She also appreciates that her work really varies from day to day.
The Chairs that she's worked with over the years have recognized, appreciated and supported her creative abilities, and she especially loves that aspect of her job. Over time, she has created posters and websites for each of her departments, has designed and formatted an annual newsletter for Religion and Culture, and more recently, has been doing portraits of faculty members and photographing departmental events. She also edited and helped shoot a video about the Bordeaux Field Study: https://www.youtube.com/watch?v=RX3Xyr5Ib6w
about her creative work . . .
In addition to her work for MLL and REL at the University of Winnipeg, she is also a talented photographer. Two of her photos were used in McNally Robinson's book Winnipeg by Winnipeg. She also contributes to hitRECord, a community-sourced production community. Over the past few years, Rachel has been practicing her photography skills by capturing her two young sons as they grow. She has recently started taking pictures for family and friends, and hopes to expand into the world of portrait photography.
about the image . . .
Adina Balint's book touches on the creative process, and she wanted the cover image to have a "sense of movement and intersection." With only these directions, Rachel was able to capture that spirit in the image shown above. Rachel explains that the final image is actually made up of four different photos. The initial photos captured light streaming through trees while swaying in a hammock at dusk in the Whiteshell Provincial Park. In Photoshop, she layered the photos with different transparencies, playing with the idea of layers representing the creative process, with the intersections as bursts of inspiration.
Click here to see more of Rachel's work.
*Professor David Hewlett of the Department of Theatre and Film retired in January 2016, having served for more than 40 years.