THFM prof's work shortlisted for Griffin Poetry Prize
Tue. Apr. 12, 2016
The finalists for the 2016 Griffin Poetry Prize have been announced and Professor Per Brask of the Department of Theatre and Film, along with Canadian writer and translator Patrick Friesen, have been named to the Canadian shortlist for their translation of a new collection of poems by Danish poet Ulrikka S. Gernes. The collection is entitled Frayed Opus for Strings & Wind Instruments and is published by Brick Books.
The Judges' Citation on the Griffin Poetry Prize website reads as follows:
"The world of the poems is twilit, borderless, melancholy, associative, seeping; and these qualities are carried over from the imagery into the fluid, blended structures of the verse. Full of arresting detail and quiet everyday languages, this is the second Gernes book to be translated by these writers and it is masterful."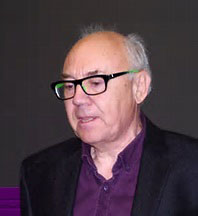 The Globe and Mail describes the Griffin Poetry Prize as "one of the most significant prizes of its kind in the literary world," and noted that Frayed Opus for Strings & Wind Instruments is one of the seven finalists for this year's award. Three of the finalists were for the Canadian shortlist and four were for the International. A total of 633 books were considered for the Prize (See "Gernes translation, Peerpaye, Howard included on Griffin Poetry Prize short list," The Globe and Mail, April 12, 2016). The winners will be announced on June 2, 2016.
The Faculty of Arts salutes Brask, Friesen and Gernes for their achievement.